7 Experts' Tips on Choosing the Right Real Estate Agent to Buy or Sell Your House in 2023
To help you in finding a good realtor for selling or buying a house, Real Estate Bees asked 16 experienced real estate agents for advice. The professionals shared their expert opinions on what matters most when interviewing an agent, as well as considering one for an interview.
Read on to learn what questions you should ask and what qualities and traits to look for when trying to pick the right realtor.
How to Pick The Best Realtor for Selling or Buying a Home
#1 Kristina Morales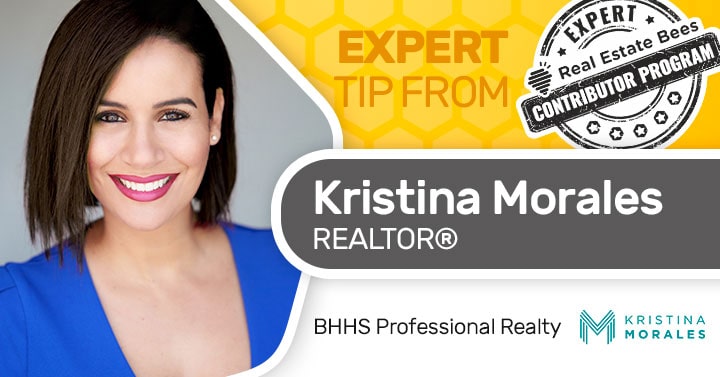 Choosing the right REALTOR® to sell and/or buy a home is crucial to the process. The right real estate agent can help a potential stressful process go more smoothly while protecting your interests in an elevated way.
Whether buying or selling, choose an agent who communicates effectively and is responsive when you call or email. Throughout the process, there are a lot of details that need to be discussed and you will have a lot of questions.
Having an agent that you are comfortable communicating with and that is available to you when you need them will make a big difference. There is a lot of education that agents often provide to buyers and sellers so you want someone who can do this effectively.
For Sellers:
Sellers, you will want to understand the agent's process for selling your home.
What is their marketing strategy?
What things do they do to go above and beyond from just listing it on the MLS?
Do they use professional services (photography, videography, staging, etc.)?
If there is an agent that you have in mind, I would suggest calling on one of their listings before you set up the listing appointment. This will give you an opportunity to see how they respond to your inquiry.
How easy of a process do they make it for buyers to schedule a showing? How well do they sell the property when they describe it to you?
Getting an idea of how an agent responds on another listing of theirs is a great way to see how they would respond on your listing.
For Buyers:
Buyers, I would choose someone who is patient and responsive, especially if you are a first-time home buyer. It is super important that your agent responds quickly in a competitive market where homes go off the market quickly.
It can also take time to find the right home so you will want a patient agent. As mentioned above, you want an agent who takes their time to explain things to you.
If they don't know the answer at the time, you want someone who is resourceful and will connect you to the right people to answer your questions or solve your issues.
Most of all, you want an agent that you can connect with and enjoy the process with. You will spend a lot of time with your agent so be sure that it is someone that you feel comfortable with.
Remember, when trying to find the best realtor for selling or buying a home, never forget to also trust your gut.
Lastly, I would recommend you to read another Real Estate Bees' article about the signs of a bad real estate agent. This will let you address the task of choosing a realtor from the another side, opposite to spotting only the best qualities.
#2 Danielle Connolly
Find someone who cares about this process as much as you do. If you are buying (for the first time or 100th time), find someone who you feel a connection with and who you think understands your needs.
Do not be afraid of "testing" out agents until you find a realtor you can trust, who makes you feel like they have your best interests in mind.
If you are selling your home, look at the listings (whether active or sold) that this agent has/had. Did the agent have professional photos taken of the homes or were they taken with a phone and are blurry with bad lighting?
Did/does the house look "staged" in the photos (in a good way to highlight all the best features of the home)? Were/are there grammatical errors in property description?
Simple errors show a lack of attention to detail which could cost you potential buyers and lost opportunities. You deserve someone who takes their job seriously and will take your home sale seriously as well.
They should be professional in everything they do including how they present themselves and your home for sale.
Most importantly though, find someone you genuinely like as a person. Read reviews, ask for recommendations from friends, but don't let those things be your only dictators when choosing a realtor to represent you.
An agent might be great at their job but not great for you. Having commonality with your realtor, a trusting and open relationship, and knowing the agent will be ethical and hard working while keeping your best interests in mind at all times is how you will end up happy and satisfied with your agent.
#3 Jaimie Harvey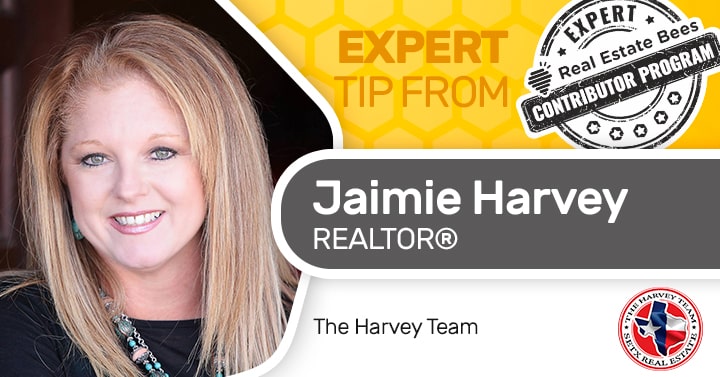 For Buyers:
If you are looking to find a buyers agent, I would ask them questions about financing. Though agents are not lenders and can't discuss some of the terms. It helps to know if they are familiar with the types of loans and the down-payment assistance programs, if there are any out there available.
I would also ask a buyers agent how quickly they would be available to show homes if something came up on the market that was a perfect fit for them.
It is important when working with buyers in a hot market, when showings and offers happen quickly: sometimes within hours of homes being listed, they are already off the market.
I would want to know if the agent would work after hours and on Weekends by appointments. What are times they would not be available?
For Sellers:
As a seller, I would want to know what the agent would be doing to get my home sold.
Do you market on social media?
How many MLSs are you in?
Will my home be listed in HAR? (if you are in Houston, TX market)
How many homes have you sold in the past year in this location?
If someone calls you to see the home, will you be the one showing it?
Do you use a professional real estate photographer?
What type of signs will you be putting out? On acreage how large is the sign?
Acreage properties: do you have a way to show the larger acreage?
Do you do aerial photography?
#4 Brittany Heckenberg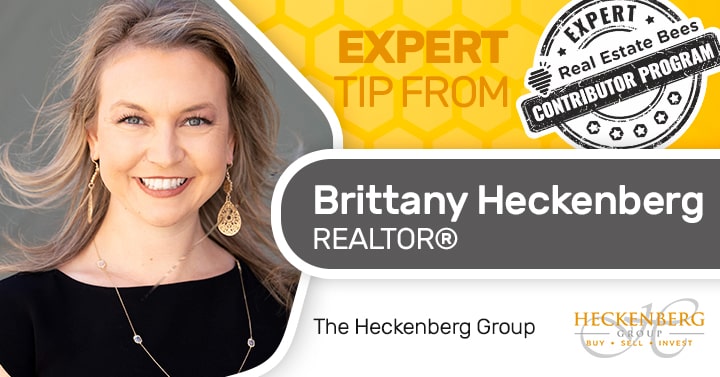 When interviewing an agent, I always suggest you ask them if they are part time or full time. I also find it important that they belong to a Board of Realtors.
A lot of part time agents do not want to pay board dues, and truly a true Realtor has a duty to the consumer: we take those responsibilities to heart.
I also would suggest that you ask the agent you are interviewing for their stats: what is their list to sold price for both buyers and sellers? What's their average number of days on market?
Additionally, when deciding on which real estate agent to choose, ask them what their big WHY is. I would want to know why my realtor wakes up each day!
#5 Sandee McDuffie
As a buyer, never just jump in someone's car and go and see houses. When picking a real estate agent, interview them to see if they are a good fit. A professional will take you through a free buyer consultation before they ever show you a house.
Sellers look for a proven track record and good communication. And please hire someone who is going to show you the respect of hiring professionals for photography, video, and staging.
#6 CJ Dubois-Cote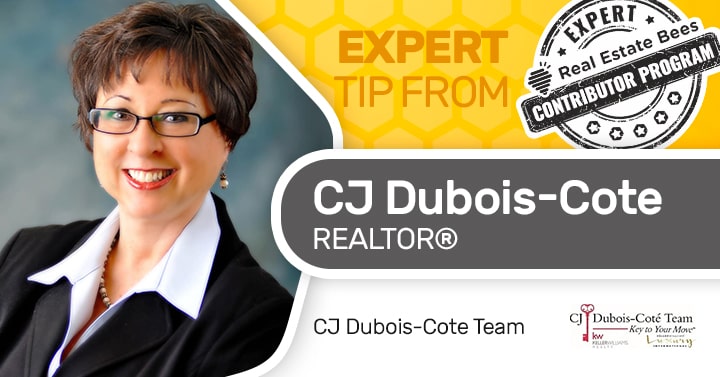 Find a realtor that does not have any other jobs and are committed to a high level of service. The realtor you choose should be closing a minimum of 3 transactions every month to be able to provide the best representation and be relevant in the current market. Having a finger on the pulse, so to speak.
#7 Denise Schroder
When selecting a realtor, it's important to interview a few potential agents and ensure they are FULL time. You need an agent that is an expert in the field and this is their wheelhouse. Check production, reviews, referrals, and interview them to see if you are a match.
So What Is the Best Way to Find the Right Realtor for You?
Now that you have learned about what to look for when choosing a real estate agent, you likely have a question: "So where should you look for a realtor?"
There are two ways to do your research—the hard one and the easy one. The hard way is asking Google to show you realtors in your area, then manually reviewing search results, picking companies, looking them up on review platforms, and finally, picking a few to call.
The easy way is visiting our real estate agent directory and picking your location. By completing this step, you will see a list of the best realtors in your area that includes reviews and other essential information about their services. We have done the research for you, and our proprietary algorithm sorted the realtors based on reviews and other reputation indicators.
___
If you want to contribute your expert advice on a topic of your expertise, feel free to apply to our Expert Contributor Program.
___
About the Author
Kristina Morales is a REALTOR® with over 20 years of professional experience. She actively practices real estate in Ohio but also has practiced real estate in California and Texas. Conducting her real estate business in three states has allowed her to gain unique experiences that make her a well-rounded realtor. She obtained her Bachelor of Arts in Business Management and her MBA with a concentration in Banking and Finance. Prior to real estate, Kristina had an extensive corporate career in banking and treasury. She ended her finance career as an Assistant Treasurer at a publicly traded oil & gas company in Houston, TX.