How to Obtain a Florida Real Estate License Online or Offline
This guide breaks down everything you need to know about becoming a sales associate or broker in The Sunshine State.
You'll learn all about the licensing rules and requirements, the application process, and the time frame for getting your license.
Ready to take your first step to better understand how to obtain a Florida real estate license? The details begin below.
Table of Contents
How to Obtain a Florida Real Estate License Online or Offline
Frequently Asked Questions
How to Obtain a Florida Real Estate License Online or Offline
Requirements for Salespeople Real Estate License in Florida
Before starting the licensing process, you need to be able to check all the boxes for Florida's eligibility requirements to get a real estate license. You must:
Be of majority age (at least 18).
Have a U.S. social security number.
Be a high school graduate (or equivalent).
Then, you can pursue your initial license, starting with completing 63 hours of accredited Florida real estate classes.
There are two exemptions. You may not have to take the course if you have a four-year real estate degree from an accredited college or university, or are a lawyer in good standing with the FL Bar.
Every applicant has to undergo a criminal background check. You must be fingerprinted for this reason. The Commission uses the report to help evaluate your suitability for licensure.
FL real estate license requirements also include taking a challenging closed-book exam. It's a 100-question multiple-choice test. To pass it, you need to achieve 75 points or higher.
Note that you need authorization to take the exam. That requires you to apply for your license and wait for an approval email letting you know you're eligible to schedule the test.
You have to book your exam reservation through Pearson VUE, the company tasked with administering the exam. They have a fact sheet that walks you through this.
After you pass the exam, the Commission will issue your license. Then you've got one more condition to meet before practicing real estate. A sponsoring broker must activate your license.
Read our guide by a real estate pro licensed in multiple states for tried-and-true tips on choosing a broker to work for.
Then, browse our directory of top-rated real estate brokers in Florida for a jumpstart.
Requirements for Broker Real Estate License in Florida
Let's cover how to get a real estate broker license in Florida by starting with eligibility rules.
To apply, you must be above 18 years old, hold a high school diploma or GED, and possess a social security number. You also need at least two years of experience.
Additionally, that experience must be within five years preceding your application. Florida real estate agents should have earned it in one of three ways:
As an active sales associate working for one or more licensed brokers
As an active, licensed broker in any other U.S. or foreign national jurisdiction
As a government employee licensed as an agent and performing related duties
Assuming you meet those criteria, you have five steps to get your Florida real estate license.
1. Pass the Pre-Licensing Course
Unless you have a four-year degree in real estate from an accredited postsecondary institution, you have to complete a 72-hour Commission-approved pre-licensing course.
2. Get Fingerprinted for a Background Check
Florida mandates a criminal history check to obtain a real estate broker license. You submit digital fingerprints that are checked against state and federal criminal databases.
You can reference the Fingerprinting FAQs to learn more about the process.
3. Apply for Your License
You can't schedule your exam until your application is approved and you receive an authorization-to-test notice.
You can apply online or mail a paper application. Fill out all sections completely and submit all required documents to avoid processing delays.
4. Schedule and Pass the Exam
Once you get authorization, you can schedule your exam with the test proctor Pearson VUE.
The exam has 100 multiple-choice questions. To pass, you must answer 75 correctly. For more information about the test, see the Candidate Handbook.
We also have a detailed guide on how to study for the Florida real estate exam.
5. Get an Active License
If you're not going out on your own, you'll need a sponsoring broker to activate your license. If you are, you must submit the required paperwork.
What Is Real Estate License Reciprocity?
When two states mutually agree to recognize the qualifications of each other's licensees for granting a comparable license, that's called reciprocity.
That agreement usually comes with caveats. In Florida, real estate license reciprocity has several qualifying conditions. Applicants must:
Meet Florida's age and high school graduation requirements.
Hold a current, active license in good standing in the mutual state.
Have met the education and exam requirements in that state.
Not be a Florida resident when applying for a license.
If you're eligible for a reciprocal real estate license, you must:
Pass a 40-question exam covering Florida real estate law.
Clear a fingerprint-based criminal background check.
You don't have to start over with the pre-licensing course or take the 100-question exam.
For details on how to apply for a Florida real estate license by reciprocity, visit the relevant Commission web page (sales associate or broker).
What States Have Reciprocity with Florida Real Estate License?
Two bordering states and eight others have agreed to real estate license mutual recognition with Florida. Their licensees can qualify for a fast-track Florida license under these arrangements.
What states are reciprocal with a Florida real estate license?
Alabama
Georgia
Connecticut
Arkansas
Illinois
Kentucky
Mississippi
Nebraska
Rhode Island
West Virginia
Reciprocity can be a helpful tool for agents and brokers in these states, particularly those who live in the ones bordering Florida.
Getting a Florida real estate license via reciprocity with Georgia or Alabama allows you to regularly conduct business across state lines, giving you a larger market.
How to Study for a Real Estate License Exam in Florida
Survey of Experts
How difficult was it for you to study and pass the Florida real estate license exam?
How many attempts did it take you to pass your real estate license exam?
Pre-Licensing Classroom Courses
You have various options for classroom courses. You can attend school in person or a virtual classroom, or take a hybrid course that blends the two.
If you learn best in structured, focused environments and want networking and interactive opportunities, any of these formats is the best way to get your real estate license.
You will be locked into the course schedule and pace of the entire class. However, you can benefit from more personalized learning and choose whether to take day, night, or weekend classes.
Pre-Licensing Online Courses
You can study online as long as you take classes at a Commission-approved school. Pick from the course list for sales associates or brokers as applicable.
Package deals are available that include exam prep. The bundle price is typically less than separate enrollment.
Even if you don't pick a package, you'll usually pay less than the cost of an in-person class. You'll also control your study pace and schedule and not deal with the hassles of a commute.
However, you'll have a greater need for self-motivation. This might be a challenge to stay focused.
Compare the benefits and disadvantages of real estate classes online vs. traditional classroom courses before you pick the method that suits your learning style.
Survey of Experts
Did you take your pre-licensing real estate course online or in person?
Do you think taking a real estate pre-licensing course online can save students time compared to in-person courses?
What is the name of the school where you completed your pre-licensing course?
Expert Insight
Do you see any advantages of taking an online course over the in-person class?
Online courses enable the student to learn at their pace. It also opens the door to this career where in some cases an in person-only option is a barrier of entry for someone.

It would have been in my case. I had two small children at home when I was studying for my license. In fact, the majority of my focused learning time was when I was nursing my infant.

If an in-person learning course was my only option, I may not be licensed today.

Online classes work if the student has self-discipline, committed to learning on their own, and is the type of person that doesn't need someone to explain the material to them.

Otherwise, it's a waste of money and they should just attend an in-person course.
Absolutely. Out of state agents have an opportunity to get licensed in other states without having to travel to the state for class.

Proximity is a great advantage as in-person class is not available in many of the areas of the state.

Timing is also an advantage as online is available now whereas in-person classes may be available next month or even longer than that.

But I also think in-person classes provide a greater level of understanding of the material.
Yes, we are working adults and many have families, so being able to study at our own time is important.

Having the ability to be online worked really well because I took it in 2020 and ended up having COVID for the first 2 weeks.

If I didn't have the ability to be online, I would have missed the entire course! Online is amazing!
For those individuals who have a full-time job and can't afford the luxury of taking one week off, this is the perfect solution. Also with COVID, you can take the course in the safety of your own home/environment.

However, it also depends upon the student. I know several people who have taken the online course but it has taken them longer than sitting in class one week.
You can go at your own pace and skip the fluff that's usually seen in a classroom setting. You can focus on areas that you need to work on and not waste any time on what you already know.

The only benefits of a classroom setting are: 1) It's good if you're not disciplined and need to actually drive to a location; and 2) You can ask questions.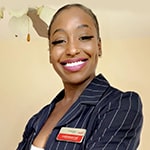 I actually paid for an online course and I could not finish it. I had to go through it again and sign myself up for an in-person class.
In-person classes let you learn, understand, and retain the information better than clicking through a platform virtually. It is more expensive, but worth it.
What would you recommend real estate students to invest extra in to ensure passing the exam on the first try?
For the first test, I would highly recommend taking the in-person course that is done in 7 days. You do nothing but think about real estate for a solid week.

Just immerse yourself in the book, the class, and pay attention. It is impossible not to pass, but you have to put some effort into learning.
Invest in practice tests that are available online either free or at a cost, and also listen to different instructors on the internet. You should know the material well enough to explain it to anyone.
I would tell students to plan on taking the test twice.

The first time to get prepared for how the test works and the way questions are worded. Then study and take the second test right away.

After taking the first test, the answers jump off the page when you study for the second test.
Watch training videos online from Magnolia real estate company. It's very helpful when passing the state course.
Invest in practice tests, cram courses, and write to me to obtain a copy of "Test Taking Tips."
Where to Take the Real Estate Exam in Florida
The Commission allows you to take the exam at one of the designated test centers, or from home or your office with an online proctor.
Pearson VUE test centers can be found in the following locations:
Boynton Beach
Coral Gables
Doral
Fort Lauderdale
Fort Myers
Gainesville
Hollywood
Jacksonville
Lakeland
Lake Mary
Melbourne
Miami
Oakland Park
Orlando
Ormond Beach
Pensacola
Sarasota
St. Petersburg
Tallahassee
Tampa
Make sure to read our tips on studying for the real estate exam before you schedule your test.
How to File for Your License After the Exam in Florida
The Commission automatically issues your license once you've passed the exam. However, Florida's real estate license process requires another step to work as a new agent or broker.
You must activate your license by filing the proper paperwork.
As a sales associate or a broker sales associate, you need a sponsoring broker to activate your license. They can submit a paper change of status form, or handle the activation online.
To become an active broker operating your own company, file the broker transactions form.
While waiting for your license to be approved, do read up on helpful resources designed to give you a headstart in the business:
How to Receive Your Real Estate License in Florida
Here's how to get your FL real estate license certificate once it's issued: Access your license through your online DBPR account, download it, and print a copy.
Frequently Asked Questions
How long does it take to get a Florida real estate license when studying in the class?
Completion time for pre-licensing education is the biggest variable in the timeline. The shortest time for sales associates is 1-2 weeks and 2-3 weeks for brokers. Double that for night classes.
Processing your background check typically takes five days or more. Allow 2-4 weeks for application processing and receiving the authorization to schedule the exam.
Pearson VUE indicates that exam appointments are generally five days out. Also, add a week or two for extra exam prep and selecting your sponsoring broker.
Activating your license should be relatively quick. It only takes a day or two if it's done online.
How long does it take to get a Florida real estate license online?
Another question you may have about how to get a Florida real estate license online is how much time you'll have to invest. Here's a look at the estimated timeline:
4-5 weeks for the course (2 weeks full time)
About five days for the background check, if no delays
Typically a 5-day wait time for an exam slot
1-2 weeks for exam prep and brokerage selection
1-3 days to activate your license
Survey of Experts
How long did it take you to get your real estate license? From the time you signed up for school till your license was issued.
Expert Insight
Knowing what you know now, what would you do differently to get your license faster?
Online was not available when I got my license. If speed was the issue, then online at my pace is the way to go.

Getting the fingerprint and background items done right away is an additional way to speed up the process.
I would have gotten my license when I first graduated from college. I wish I started this career sooner, but I know my previous experience has made me the success that I am today.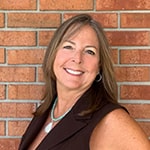 I planned on a calendar when I would do each lesson and blocked out my time. Stick to it or reschedule it to keep on track. It is easy to let life take over and put on the back burner.

Keeping to task, getting through the material, and then taking the test worked well for me to accomplish in less than two months from start to license.
Being faster was not an issue versus the quality of education and training that I should get to be sure I would succeed.
Nothing. Everything happened just as expected. And the night class made it truly easy for me to be a mom and still work a 9-5 job.
Is there a background check for a Florida real estate license?
Yes, a background check is a condition for applying for a real estate license in Florida.
You must be fingerprinted by an authorized LiveScan service provider. The Florida Department of Law Enforcement and the FBI will check your prints against their databases.
For more information on the state's background check requirements, read our article on getting a Florida real estate license with violations on the record.
How much does a Florida real estate license cost?
The cost of pre-licensing education ranges between $100-$500 for either license. The tuition depends on the school and whether classes are online or in person.
You'll need to remit an application fee of $83.75 if you're applying as a sales associate and $91.75 as a broker candidate.
The fingerprinting fee varies by provider but is typically around $50. For the exam, you'll pay $36.75 per attempt.
For a complete breakdown of licensing fees, read our guide – How Much Does It Cost to Get a Real Estate License in Florida?
Survey of Experts
In your opinion, was the cost of getting your real estate license reasonable?
Approximately how much did it cost you to get your real estate license? Including school fees, study materials, and other related expenses.
Expert Insight
What were your 'surprise costs' after getting your license?
No real surprise costs. I knew upfront once I passed the state exam there would be additional fees for MLS, NAR, and associations.
The MLS fees, association fees, and startup costs at brokerage.
What costs could have been avoided and how?
I purchased a book which wasn't necessary but useful for my course.
I don't believe there were any costs I could have avoided. I was able to pass the exam the first time and studied on my own, so it was as low cost as possible.
I don't think any of the costs could have been avoided. It would have helped to have clear direction on where to get the additional things completed at.
Brokerage startup costs could have been avoided by interviewing other brokerages.
How long do you have to wait to retake the real estate exam in Florida?
You must wait one day after getting a failing score to make a retake reservation.
How many times can you retake the Florida real estate exam?
The Commission doesn't cap the number of re-attempts. They, however, set a time limit. If you fail the exam, you get two years to earn a passing score.
Do you have to pay to retake the real estate exam in Florida?
Yes, you must pay a fee for every testing attempt.
How much does it cost to retake the real estate exam in Florida?
Broker and sales associate applicants pay $36.75 per retake.
Can you get a real estate license with a felony in Florida?
Some felony convictions can lead to application denial. Others might not.
Those in the first category include first-degree felonies and convictions where the crime is substantially related to the duties and qualifications of a licensee.
Examples include offenses that involve violence, dishonest conduct, financial misdealings, or moral turpitude.
Also, the more recent the incident, the more difficult the entry process may be.
The Commission will consider how much time has passed since the offense, along with the type of crime and other pertinent factors in evaluating your application.
Can you get a real estate license with a misdemeanor in Florida?
You can apply, and possibly be granted, a license even if you have a misdemeanor conviction.
A relatively minor offense that has no direct bearing on practicing real estate and was resolved a while ago isn't likely to be a barrier to approval.
However, situations like any of the following can pose a problem to getting a real estate license in the state:
The offenses are too serious, too numerous, or too recent.
The crime casts your moral character in a negative light.
Financial misconduct, fraud, or dishonest dealings are involved.
Will a DUI prevent you from getting a real estate license in Florida?
The answer to whether you can get a real estate license if you have a DUI isn't a simple yes or no. It depends on the nature of your conviction and the circumstances of your case.
For example, a misdemeanor DUI won't likely disqualify you. However, more than one conviction or a circumstance that led to a felony will draw closer scrutiny by the Commission.
The important thing is to disclose the conviction when applying. Also, provide explanations and supporting official documents.
Survey of Experts
Is it more challenging to get a real estate license with violations on one's record?
Do you know any people who got a real estate license with violations on their record?
Can I get a real estate license without a high school diploma in Florida?
No. A high school diploma or equivalent certificate is a must for obtaining a real estate license in Florida.
Refer to this comprehensive guide once you're ready to take the first step to becoming licensed in the state.
Make sure to also reference our article on how long it takes to get a real estate license in Florida to get an estimate of the hours you should allot to acquire a license.
Once you're a licensed agent, you're set to begin your real estate business.
To help you build and grow your real estate career quickly, we at Real Estate Bees created a directory for real estate professionals.
It's designed to help you get more exposure for your business, including receiving leads. Create a free profile by signing up here.
__
If you want to contribute your expert advice on a topic of your expertise, feel free to apply to our Expert Contributor Program.
__
About the Author
Kristina Morales is a REALTOR® with over 20 years of professional experience. She actively practices real estate in Ohio but also has practiced real estate in California and Texas. Conducting her real estate business in three states has allowed her to gain unique experiences that make her a well-rounded realtor. She obtained her Bachelor of Arts in Business Management and her MBA with a concentration in Banking and Finance. Prior to real estate, Kristina had an extensive corporate career in banking and treasury. She ended her finance career as an Assistant Treasurer at a publicly traded oil & gas company in Houston, TX.