7 Best Live Answering Services for Real Estate Investors
Real Estate Bees' editorial team asked a number of industry-leading real estate investors to share their expertise on the best phone live answering services for real estate investing to help our readers make a more informed decision when choosing a service provider for their needs.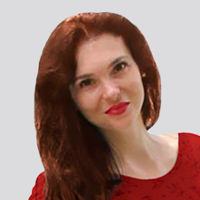 With the help of the experts, we identified the best telephone live answering service providers for real estate investing business and evaluated them based on critical factors that are important for real estate investors. We never receive any compensation for the inclusion of products or services in our articles. Read our editorial guidelines to learn more about our review and rating process.
This article will show you some of the best answering services for real estate investors that can help you qualify home buyer, seller, and renter leads without your personal involvement.
We will review them based on their features and pricing. Let's jump in.
Survey: Which phone answering service do you use for your investing business?
Call Porter ⁠— Overall best answering service for real estate investors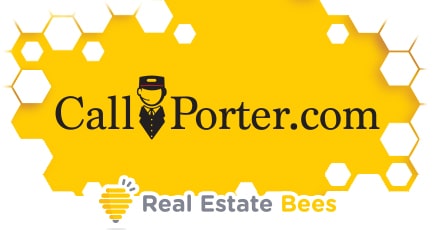 GET STARTED
Founded by Ryan Dossey, Call Porter is a telephone live answering service for real estate investors made exclusively by investors for investors.
They manage calls for more than 50 real estate investing companies across the US.
Ryan Dossey created the company out of the need to solve the problem of losing clients due to unanswered phone calls.
By employing a large team for answering phone calls, Dossey discovered he could close more deals.
The idea evolved into a real estate investor answering service when Ryan's friends started requesting his help.
With Call Porter, you can get a custom phone number. You should use that number on your marketing materials, and Call Porter will respond to your calls moving forward.
They also offer a cold calling dialer for real estate investors.
Features
24/7 service delivery: Call Porter has employees that work round the clock, 24 hours, seven days a week except on major holidays. If clients call during a holiday, the call will be routed to voicemail, and the voicemail will be transcribed and sent to members of the Call Porter team.
Skilled call agents: Every Call Porter agent must pass through a 90-day probationary period. The company ensures its agents are familiar with the nuances of the real estate market before they begin answering calls.
Inbound only answering service: Call Porter does not initiate calls; they only answer inbound calls. You will have to find motivated seller leads on your own and have them call you. Call Porter's services include data collection to assist with outbound prospecting.
CRM integration: The platform allows CRM integration so that you can direct any motivated seller leads gotten through calls into any real estate wholesaling CRM of your choice.
Pricing
There are four packages available on Call Porter: Side Hustler, Solopreneur, Entrepreneur, and Corporate.
Side Hustler costs $49/month with a cost per minute of $4.50.
Solopreneur is $249/month with a cost per minute of $4.10.
Entrepreneur goes for $499/month with a cost per minute of $3.
Corporate plan is $1,249/month with a cost per minute of $2.
The services are available for free for the first 30 days. The image below shows the features included in each package.
Expert Insight
What do you like about this service?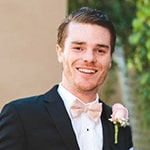 Experienced, run by investors, they understand marketing and the process. Do not need to reinvent the wheel with Call Porter.
What do you dislike about this service?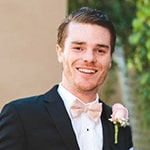 On the expensive side, but you pay for better quality service overall.
Ruby ⁠— Best answering service for home selling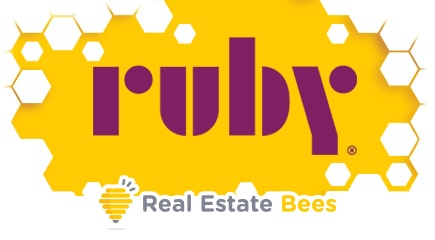 SIGN UP NOW
Ruby started as an answering service for small businesses in 2003. What began as a four-person team has grown to cater for over 13,000 businesses across the USA.
Ruby is popular among real estate agents. It can also be used by real estate investors, notably for communication with buyers looking for properties being sold after rehab.
Clients can better control their call schedule from the Ruby mobile app by handing out call handling instructions on the platform.
Features
All the features offered by Ruby are essentially contained in the mobile app. These features include:
Integrations: The app integrates with Clio, Nextiva, and Rocket Matter. These integrations allow you to manage your calls effectively.
24/7 live chat: Apart from a real-time voice answering service, Ruby also offers the benefits of live chat to small businesses. The team can take charge of the live chat on your website and direct qualified leads to you. You will also receive transcripts and details of every chat in your email.
Pricing
There are four plans on the Ruby platform, and they are:
Call Ruby 50, which sells for $219/month and offers 50 receptionist minutes
Call Ruby 100, which is available at $349/month and offers 100 receptionist minutes
Call Ruby 200 is $629/month and offers 200 receptionist minutes
Call Ruby 500 is $1,499/month and offers 500 receptionist minutes.

SIGN UP NOW
PATLive ⁠— Best message taking service for investors
Since it was created in 1990, PATLive has established itself as one of the best answering services for small businesses.
The virtual receptionists at PATLive have been trained to function like in-house employees. When they take messages for you, you should receive a notification on the mobile app.
For the call agents at PATLive to achieve the professionalism you and your clients expect, they have to receive instructions.
You need to fill out a call handling instructions form. The call handling instruction form contains a script for the call agents to follow from the start to the end of the conversation with the client.
For this purpose, you may find helpful our article about important questions to ask a motivated seller.
Unlike Call Porter, PATLive is not exclusively for real estate wholesalers and investors, so the call agents may not be as versed in real estate market nuances.
Features
24/7 service delivery: The team of receptionists at PATLive are available 24/7 for 365 days of the year. They are also available during major holidays, which is an advantage over CallPorter.
PATLive app: The application is one of the answering service's features. The PATLive app has both mobile and web versions and offers many options. Some of the features include push notifications that update you when you receive calls and when an action has been performed on your behalf. The web app generates analytics about activities carried out on the application, and it helps you keep tabs on your calls.
Integrations: The PATLive app offers several integrations for different purposes. There are a variety of third-party apps you can integrate for calendar and scheduling, CRM, e-Commerce, legal practice management, and property management. The app is helpful for real estate investors as it keeps track of the services you need for your business.
Lead capture: Beyond offering live voice answering services, the platform also helps clients with lead capture. With the use of custom forms generated by the app, you can capture motivated sellers for your real estate business. The platform can funnel these leads directly to your real estate investor CRM integrated into the app.
Pricing
Five packages are available on the platform; however, you can use the platform for free for the first 14 days.
The packages are Starter, Standard, Pro, and Pro+.
Basic package starts at $59/month
Starter package is $199/month
Standard package is $349/month
Pro package is $799/month
Pro+ is $1,279/month.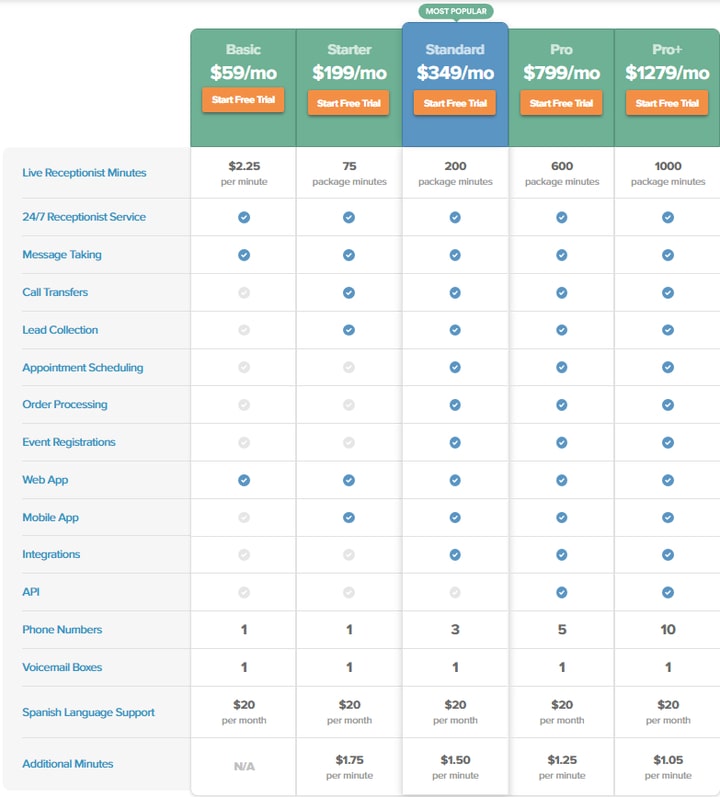 VoiceNation ⁠— One of the best answering services for small businesses
The company has been providing virtual receptionist services since 2002. However, it transitioned into a live voice answering service in 2009.
Since then, they have become one of America's top telephone answering services. They have served over 75,000 entrepreneurs in America.
There is a VoiceNation mobile app that you can use to keep track of your calls and messages.
Its operation is straightforward. As customers call your business, you are notified on the VoiceNation app.
You can then choose when you want VoiceNation operators to respond. After the call, the app will inform you about the details of the call via email.
Features
The features offered by VoiceNation include 24/7/365 service delivery. Another feature is the VoiceNation mobile app which helps clients manage and track calls. Other features include:
Live chat: VoiceNation offers live chat services to their clients. They can also help manage your website's live chat and your real estate chatbots.
Bi-lingual call operators: As a real estate investor, you may have clients who are more comfortable speaking other languages. At no extra cost, VoiceNation offers its answering service in Spanish.
Reports: VoiceNation can help you keep a tab on your calls. They allow you to generate reports and analytics to help you focus on your target audience.
Pricing
Basic package costs $59/month
Business package is $115/month
Pro package goes for $279/month
Executive package costs $449/month
Enterprise package is $889/month.
You can try out the service for seven days with 30 minutes of free call time.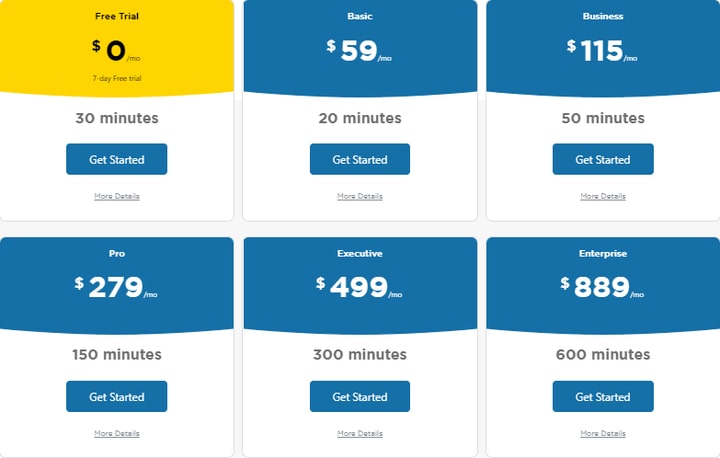 MAP Communications ⁠— Top answering service for property management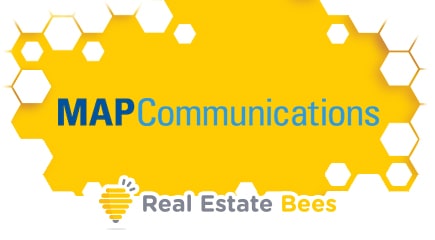 For over 30 years, MAP Communications has provided live voice answering services for American businesses.
They have provided services for companies like General Electric (GE), Canon, DuPont, WebMD, and small businesses.
The company has been in business for some time, and they hold a large share of the answering service market.
Their real estate investor virtual assistant services include telephone answering services, call center for real estate investors, and receptionist services.
For real estate investors, the service tailored towards helping you capture various types of motivated seller leads is the call center service.
The call center service offers lead capture, direct response campaigns, customer support, business continuity services, and an inbound call center, among other options.
They also offer specialized real estate live answering services for property management companies.
In this case, you can integrate applications such as Google Calendar, Appfolio, and ResNexus.
Features
Considering the company's size, they offer a wide range of telephone answering services for small businesses. They offer a 24/7 live voice answering service 365 days a year.
Call tracking: For real estate investors, the platform offers a feature that allows you to get data about your calls and evaluate the performance of MAP Communications. You can keep a tab on the motivated seller leads that you generate with this feature.
Lead capture and lead qualification: The platform helps you capture leads and, with the aid of their staff, helps qualify leads for further follow-up.
Pricing
MAP Communications offer three packages. They are:
Standard, which costs $43/month
Business, which costs $164/month
Executive, which costs $274/month.
AMBS Call Center ⁠— Best for small scale real estate investing companies
AMBS answering service is one of the oldest on the market. The company was started in 1932 by Helen Miller as a medical answering service.
Since then, they've become one of the most popular answering services for small businesses in America.
They offer their services to different industries, including healthcare, legal services, insurance, and manufacturers, among other sectors.
They also provide one of the best answering services for real estate investors.
It comes with options of a virtual receptionist, property management answering service, a sales team, and scheduling service for showings.
Features
Some of the features offered by the AMBS answering service include:
Automated messaging: AMBS answering service offers services like voicemail messaging so that when someone leaves a voice message for you, you receive it immediately via email. The platform is also integrated with the Acuity Scheduling app so that you can view, manage and receive updates about appointments. Other features available as part of the automated messaging feature include the mass notification system, automated attendant, and AMBS client call portal.
Inbound sales lead capture: This is one of the most helpful features offered by real estate call center services. The platform allows leads to be fed directly into CRMs or web forms. AMBS answering service offers a lead capture system as part of its call center service. Other features available with the call center service are help desk services, employee call off service, appointment scheduling, and event registration.
Pricing
The answering service's pricing starts from:
$275/month for 250 minutes
$525/month for 500 minutes
$975/month for 1000 minutes
$2,375/month for 2500 minutes.
If you need more than 2500 minutes per month, you have to apply for a special package.
Propertyware Answering Service ⁠— Best answering service for landlords
Propertyware is a technology company providing solutions for real estate investors, rental property managers, and other real estate stakeholders.
Part of their solutions is a telephone answering service for landlords, property management companies, and real estate investors.
Through Propertyware Contact Center, they help real estate businesses keep in touch with their customers even after closing hours.
Like Call Porter, the live agents are trained to handle real estate issues exclusively, unlike other answering services where you need a script to hold conversations with clients.
Features
The Propertyware platform offers different tools for real estate investors and landlords, such as payment options,  online portals for efficient client information management, and one of the best website builders for real estate investors.
Other features provided include:
Integration: Considering Propertyware is a comprehensive solutions provider for real estate investors, you can integrate data from phone calls directly into your Propertyware account.
Lead capture and tracking: The system is designed to help you capture and track leads for efficient maximization of the marketing budget.
Pricing
Registering on the Propertyware platform gives you access to all the services offered, including the answering services.
Basic plan is priced at a minimum of $250 per month.
Plus plan goes for a minimum of $350 per month.
Premium plan starts from $450 per month.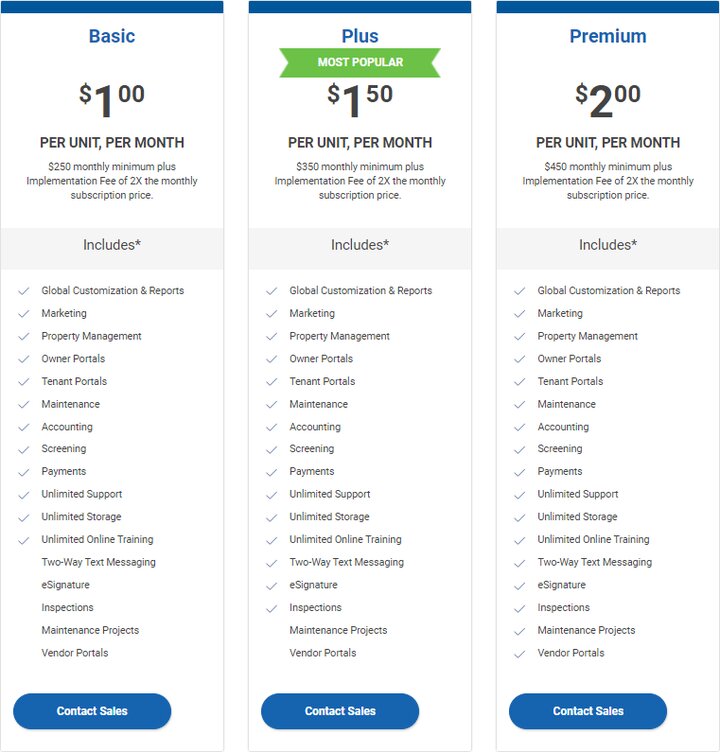 What to look for when choosing a phone answering service for your real estate investing business?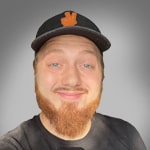 The ideal goal is to identify who is calling quickly and have the ease to listen to the recording afterwards.

If you can work with a phone answering service that has other features outside of phone answering, that is ideal.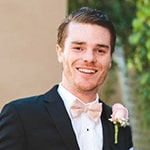 It's important that they understand real estate investing, understand the process, and know marketing and sales well.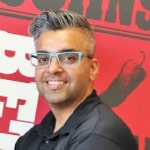 Voice clarity, fast connectivity, CRM integration, and text messaging option.
Make sure that it's customizable and reliable.
__
About the Author:
Oleg Donets is a serial entrepreneur, technology and digital marketing strategist with a solid track record. Since 2013, he has been successfully helping numerous startups and established companies from a wide range of industries to launch, grow and scale their businesses by utilizing his innovative technology solutions and progressive marketing strategies. Oleg is a founder of Real Estate Bees, a cutting-edge technology & marketing platform for the real estate industry. Oleg is also a proud business mentor at SCORE, the nation's largest nonprofit organization and a resource partner of the U.S. Small Business Administration.