7 Ultimate Market Positioning Strategies for Real Estate Pros to Become an Industry Expert in 2023
Many business owners and entrepreneurs, regardless of the industry and geography, often struggle building up their companies to a level where they no longer need to compete on price, chase after customers, defend their credibility and constantly persuade consumers that they are better than their competitors.
At the same time, in every industry, market and parallel, there is always that one or few businesses that crush it. They seem to simply not have all those major struggles that most of other companies face.
How is that possible that overwhelming majority constantly fight for business and get beat down on price while a few companies, in the same industry and with same market conditions, make customers almost beg to take their business and charge substantially higher fees?
What do these companies do differently to achieve such extraordinary results?
Long story short, the answer is – all these ultra successful companies leverage in their business one of the most powerful marketing strategies – POSITIONING!
In simple words, positioning is the place a company/brand occupies in the minds of the consumers and how it is distinguished from the competitors' products/services.
All those successful companies effectively and predictably utilize the power of positioning to establish an expert status for themselves in the industry. That earned, and often strategically manufactured, expert status is essential for everyone who's wanting to dominate their market.
The power and influence one gains in the marketplace from the authority figure status is immense. Companies or individuals who have been able to successfully position themselves as sought-after experts in their field, get to enjoy significant benefits unlike their competitors.
In his book No B.S. Marketing to the Affluent, Dan S. Kennedy, a marketing legend, author, speaker and serial multi-millionaire entrepreneur, demonstrates the power of expert positioning status through his Hierarchy Pyramid of Income and Power concept.
Dan's concept showcases distribution of income according to one's perceived status in the marketplace. The higher up the pyramid's status ladder you climb, the more you are likely to earn in premium income than any of your competitors that are positioned lower than you are.
Even though being an expert in your field gains you numerous advantages, below I've listed the most remarkable four:
Freedom of choice – Ability to pick and choose who to do business with as opposed to a necessity to work with everyone due to the lack of business.
Expertise factor – Having customers come directly to you to seek your expertise as opposed to chase after them to get their business.
Price flexibility – Ability to command higher prices due to effective de-commoditization of your products and services in the marketplace.
Talent attraction – Having top talent constantly seek employment in your company due to solid reputation and lucrative career opportunities.
Now, let's get to the bottom line. How in the world can you position yourself as a sought-after expert in your industry in order to enjoy all these goodies?
Below I listed 7 the most effective strategies that will help you position yourself and your company as an authority figure in your field.
7 Robust Strategies to Position Yourself as a Go-to Industry Expert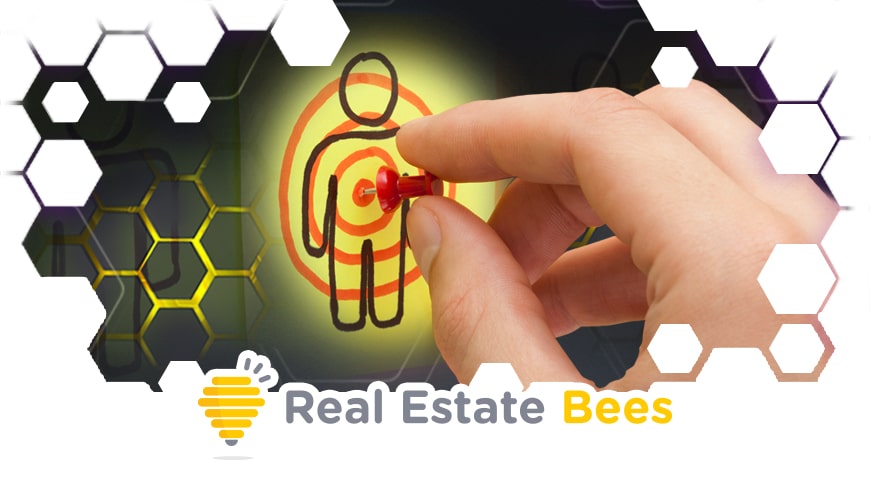 First and foremost, when planning to build your expert status, you must lay down a solid foundation. A strong foundation in the journey to becoming an industry expert is to choose a specific target audience to go after.
Trying to be all things to everyone, won't get you very far. It is way easier, cost-effective and quicker to establish yourself as an expert in a specific niche than to try and be an expert of the entire industry.
For instance, let's say you are a Realtor. As a real estate agent you really have wide range of target audiences you can pursue. You can start marketing to home buyers, sellers, renters, investors, builders, and the list goes on.
However, if you stop for a moment and think carefully about every one of these segments, you will realize that they all have completely different needs, concerns and objectives.
Trying to become a go-to expert for all of them is virtually impossible or at best, will take enormous amount of time, money and other resources.
Instead of trying to appeal to everyone, pick a specific niche. For example, become a real estate agent for investors. By doing so, you concentrate only on real estate investors.
Learn everything about them. Understand their pain points. Master all the ins and outs of their business. Start speaking to them in their language.
Only then you will get noticed. Only then you will stand out from all the generalist realtors that try to serve everyone out there.
Only then you will be considered as a valuable resource and your target audience will come to you to seek your advice; not the other way around.
It is not a secret that people love lists, especially top 10 ranked lists. Top 10 lists give consumers sense of relief in terms of decision making.
In particular, such lists help consumers overcome major objections like uncertainty, indecisiveness, fear of making a bad choice that usually occur during the product/service research phase.
In fact, top 10 lists not only help alleviate mentioned above objections, but they also help establish three major favorable conditions under which consumers are more likely to make a purchase or hire.
#1 Easy Choice
Top 10 lists provide limited amount of options. Yes, ten options still can sound as too many but it's not if you think about it. All the ten choices given on the list are technically good. Otherwise they wouldn't make it to the Top 10 list.
Therefore, regardless what a consumer picks, it could be considered as a safe choice, which makes the decision making easy and stress-free.
#2 Instant Trust
The power of Top 10 lists is significant! Even though the criteria based on which some lists have been created can be questionable and completely unreliable, for the end consumer, the Top 10 concept will still be very persuasive.
The degree of that influence, however, will be determined by the referral/source that led a consumer to that Top 10 list.
For instance, let's say a consumer uses Google's search engine to research top real estate brokerages in Houston TX.
He/she types "best real estate brokerages in Houston" and looks at the results. One of the first results is a Top 10 list. It just happened to be our result 🙂
In this case, the search engine, or more precisely – Google – is the referral/source. Do you think Google search engine's users trust Google? You bet they do.
As I explained in my extensive real estate SEO guide, consumers trust organic search results of reputable search engines. Google is undeniably a very reputable search engine.
In fact, according to Forbes, Google is world's 2nd most valuable brand!
So we, as consumers, subconsciously trust Google's results as if they were expert's recommendation or endorsement.
In other words, if Google lists (recommends) a website on the top of its search results, then it must be a reputable source of information.
So if consumers find a Top 10 list through Google and your company is on that list, such powerful endorsement instantly positions you as a credible industry expert in your market making your potential customers trust your business.
#3 Higher Conversions
This has been proven numerous times by our company as well as by others that consumers convert in much higher rates after they got exposed to a Top 10 list.
This behavior can be attributed to a commonly used marketing tactic called – pre-selling.
Basically, in our case, the Top 10 list becomes a powerful pre-sale layer between the consumer and the items listed on the list (can be products or service providers).
This is an extremely powerful strategy that works very effectively virtually in every industry.
It's very common, in internet marketing, to utilize pre-sale pages when running a marketing campaign.
In other words, instead of driving the traffic (visitors) directly to a product/service page, a marketer directs visitors to an intermediate page that pre-sells the product/service offered on the final page.
Very often, pre-sale pages can significantly increase conversion rates for a certain product or service.
In our instance, the Top 10 list is a pre-sale page on steroids because adding to it the borrowed authority and trust from a referral/source (in our case Google) makes it that much more effective!
If you your business is in one way or another relates to real estate, I welcome you to join our extensive community of real estate professionals and start positioning yourself as a go-to industry expert by utilizing the power of the Top 10 list.
Get Featured in Reputable Publications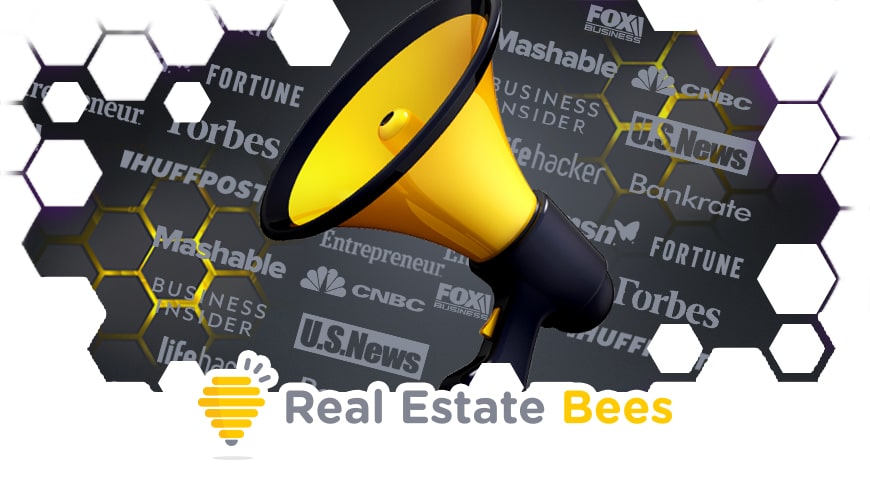 When striving to become an expert in your field, it's imperative to get mentions in reputable publications as often as possible.
Yes, I know, it's not that simple to get on those prestigious journals such as Forbes, Entrepreneur, Fox Business and many other reputable magazines and publications.
What even worse, you can say, "How someone like me, out of thousands of other real estate agents," or brokers, investors, etc., "can get on any of those huge publications?"
Well, I agree with you – it's not that easy. But it's very possible and easier than you think (if you know the rules of the game).
There are two types of publications you want to get featured in:
General publications
Trade publications
General Publications
By general publications I mean all the major publications like HuffPost, Fox Business, Forbes, Business Insider and many others that report on everything related to business and beyond.
Being featured in any of such publications is a huge advantage for you as it validates your status of an expert and boosts your credibility and authority.
Besides the traditional benefits from the mentions on high authority publications, you also get an enormous SEO advantage for your own website (if you have one of course).
It's part of Google's ranking algorithm to reward with higher rankings in search results those websites that are mentioned on reputable and authoritative publications.
Therefore, every time you get mentioned in a reputable publication, not only you get more recognition, exposure and credibility but your website also receives a chance to rank higher in search results!
Trade Publications
When it comes to the trade publications, similarly to general publications, these media outlets are also highly authoritative and reputable.
The only difference is that these publications are mainly concentrated in a particular trade or industry.
For instance, for real estate agents and brokers, the major trade publications would be:
Inman
RISMedia
TheRealDeal
Real Estate Bees
Real Estate Words
and others
Under the trade publications also fall associations and other industry-related organizations. Here are some examples for real estate professionals:
National Association of Realtors (NAR)
American Real Estate and Urban Economics Association (AREUEA)
National Association of Hispanic Real Estate Professionals (NAHREP)
Women's Council of Realtors
and others
Like the general publications, the trade publications are equally valuable to get yourself featured in.
However, how do you do that? "How can I get featured in those publications?" you might ask.
Well, there are technically three main ways:
To engage a professional PR firm (quite expensive option)
To do PR on your own (time-consuming and requires certain skills but doable)
To have something super unique that will make journalists want to feature you on their own (very unlikely scenario)
So these are the main options you currently have if you want to get featured in some of the major publications.
If you have a minimum of $3,000 per month to pay a PR firm to do it for you, by all means go ahead and hire one.
If you have at least 2 to 3 hours a day to first learn how to do PR and then do it on your own, this is also a not bad option to pursue.
If you have something so unique nobody else has – you are lucky! You don't need to do anything. The press will come to you.
Unfortunately, if none of the listed above options are feasible for you, you are out of luck. It will be challenging for you to get featured anywhere.
Luckily for you, there is another – fourth option!
At Real Estate Bees, we have our own in-house PR department. We know very intimately how this process works. In addition, we have our own network of top-tire reporters and journalists that we work with directly.
Since it's our mission to help real estate professionals to position themselves as go-to industry experts, which we have been successfully doing since 2016, we decided to go ahead and help them with Public Relations (PR) through our FREE Exclusive Publicity Program.
You're welcome to apply to see if you qualify.
Get Published on Industry Websites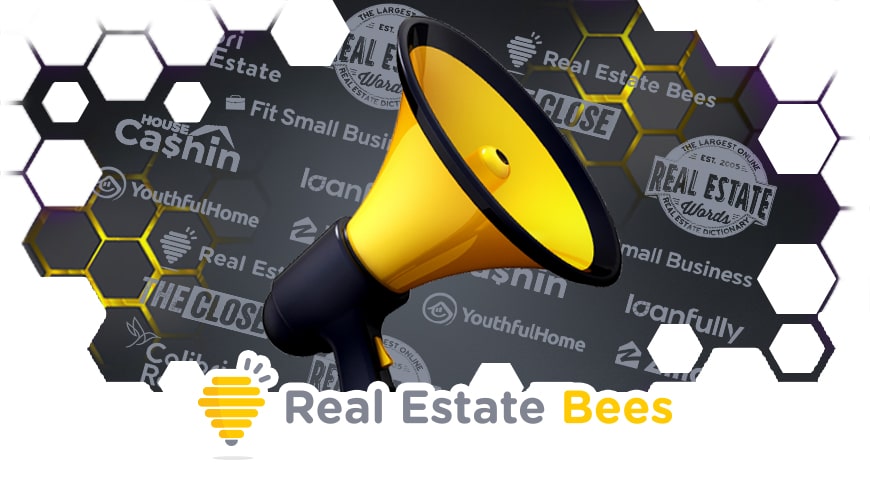 Similar to General and Trade publications, industry websites also give you valuable publicity. These are mainly the top-tire industry-related online portals, communities and blogs.
Take for example our website RealEstateBees.com. It's a real estate industry portal that on a monthly basis attracts tens of thousands of real estate pros as well as home buyers and sellers.
People come to our platform to:
Get quality educational content through our extensive real estate knowledge base
Find industry professionals through our massive real estate business directory
Get leads through our advanced real estate leads marketplace
Help them facilitate their real estate transactions
Promote their business
and much more…
Platforms like ours allow real estate professionals like yourself to get in front of your target audience and position yourself as an industry expert.
For instance, let's assume you are a real estate brokerage owner who wants to recruit more new agents to join your brokerage.
Let's say a new realtor who has just received his/her real estate licence is looking to join a real estate brokerage and they find this piece of content How to Choose the Right Real Estate Brokerage to Work For as a New Agent.
Don't you think a content piece like this would help you recruit more agents to your brokerage? You bet it would.
Unlike the General or Trade publications where most of the time you're being mentioned through a short quotation (which is extremely powerful regardless), in our example above the author had an opportunity to contribute the entire article dedicated to a particular topic.
This automatically makes the author a subject matter expert, especially if the content provides a substantial value based on the author's first-hand experience and expertise.
However, be aware of thousands of disguised spammy websites out there.
These days there are tons of what's called 're-purposed' websites that look legitimate at the first glance but in reality are useless at best.
As a rule of thumb, in order to distinguish a valuable website from a worthless one (and often even a spam), watch out for the following four key elements:
A quality website will NEVER ask you to pay money to contribute your content.
A quality website will ALWAYS have a decent amount of traffic coming from search engines.
A quality website will ALWAYS rank in search engines for the relevant to its subject matter keywords.
A quality website will ALWAYS have high editorial standards that can be met only by qualified experts.
So the next time you are about to invest a bunch of your time into creating a valuable piece of content for some seemingly quality website, make sure you apply my quality assurance formula.
Once you made sure the website you're interested in contributing your expertise to passed the outlined above four requirements, feel free to get in touch with their editorial team to pitch your content idea.
Usually many websites have a dedicated page for this purpose where they outline their editorial guidelines as well as other requirements.
Some sites don't have this page and so you'll need to directly contact them and find out whether they accept guest contributors or not.
At RealEstateBees.com we've created the whole program for guest contributors called Expert Contributor Program.
It's specifically created for industry subject matter experts who want to share their valuable, first-hand expertise, accumulated over the years, while simultaneously positioning themselves as go-to industry experts in the process.
If you're a real estate subject matter expert with  a proven track record and you're looking for getting in front of your target audience, you're welcome to apply to our Expert Contributor Program.
Of course, besides our website, there are many other valuable sites as well. You just need to search, evaluate them based on my formula and pitch your content ideas.
By getting on as many quality websites as possible will dramatically increase your reputation, authority status and your website's rankings in search engines in the long run.
Being a go-to resource for information and education in your industry is an incredibly effective way to introduce yourself and your brand to your target audience throughout various stages of their purchasing cycle.
Similarly to a public speaking and other strategies, this strategy is also built around the same fundamentals:
He/she who provides a valuable information by answering consumers' questions and/or teaching them something they want to learn – is automatically perceived a subject matter expert!
However, there is a caveat. In order for this and other strategies that utilize the same fundamentals to work, the following two prerequisites must be in place:
Trustworthy Medium
Quality Content
Trustworthy Medium
You are probably asking what I mean by a trustworthy medium. Well, here I'm referring to a channel or medium through which target audience consumes the information.
Let me explain.
Let's take public speaking strategy. The medium or a channel, in this case, would be a physical event at which speakers communicate their message to the audience.
Wait, but what about the 'trustworthy' part? This is critical. The medium must be trustworthy for this concept to work. Let's get back to the public speaking example.
Does anybody go to events that they consider NOT trustworthy? Have you ever gone to such events?
Of course not.
We only go to events or seminars that we trust and we want to hear from the featured speakers.
So, by default, the events and seminars we attend can be considered as a 'trustworthy' medium. Therefore, speakers participating at these events automatically assume the intrinsic trustworthiness naturally created by the medium itself.
Ok, as far as public speaking is concerned, it's clear now. But what about the 'Become Industry Resource' strategy?
The same principle applies here too. Only the medium is different.
There are number of possible mediums available for this strategy. However, here I want to discuss the major one – online medium.
It's important to understand that online medium also must meet certain criteria for consumers to consider it trustworthy. Just creating content and posting it online doesn't make it trustworthy.
Similarly to events and seminars that we were not aware of before but got recommended to us by our friend, colleague or other trustworthy source, online medium functions according to the same recommendation principle.
In other words, it matters how your target audience get exposed to your content.
For instance, let's say your potential customer finds your offer on Craiglist. How trusting do you think they will feel towards your company?
Not very trusting. Craiglist doesn't have very good reputation. Does it?
Let's look at another example.
What if your potential customer reads about your company on Forbse.com. How do you think they will feel about you?
I'm sure you will agree with me that Forbes is a highly credible brand and if they decided to mention your company on their website, it means public can trust you too.
So, as you can see, it's imperative that your target audience get exposed to your content through a trustworthy source.  Only then this strategy will work and work very effectively.
Just in case you missed my second strategy "Get on 'Top 10' Lists", Google is also considered to be a highly trustworthy source. In particular, I'm referring to its organic results (not the ads).
In other words, Google's search engine is a trustworthy medium!
Therefore, if your target audience find your content in Google while searching for answers, you're in luck! People who use Google's search engine – trust its results!
Such powerful endorsement of your content instantly positions you as a credible industry expert in your market making your potential customers trust your business.
So if you believe there is no way for you to get featured on Forbes.com or similar reputable publications (which is very possible btw), then investing in search engine optimization services for your website is something for you to strongly consider.
Quality Content
This one is pretty straight forward. You should have a high quality content for your target audience to consume. This part of the equation must meet the quality standards or else it will fail miserably.
If you have the first part – trustworthy medium – figured out, but your content is average, forget about it. It won't work.
Your content MUST be of highest quality and in-depth!
Take a close look at this guide you're reading. It took me few weeks to create it and I keep constantly updating it as time passes by.
Does this guide answer your question on how to become an expert in your field in detail?
I hope it does 🙂
In fact, I myself was searching for similar content few years ago and all I could find is some generic, regurgitated advice.
Not to sound braggy, I haven't seen anything so detailed, in-depth and with so many actionable points like in this guide.
Honestly, this was exactly my motivation to create something of value since I wasn't able to find anything substantial on the web.
I hope you find it helpful too 🙂 If so, please share it with your friends and colleagues through any social media channels of your choice. I will really appreciate your support!
How to Become Industry Resource in Your Field
After understanding the two essential prerequisites for this strategy to be effective, now let's get to the bottom line.
What can you do to become a go-to resource in your industry?
I want to remind you that here I'm only covering the online aspect of it. Just want to make sure we're on the same page.
Generally speaking, you need to be the one providing the answers (as many and as often as possible) to your target audience's questions throughout their entire purchasing cycle. The more you can get in front of your audience and in-detail address their needs during their buying process, the better.
So how does this statement translate to actionable steps for you to execute?
Let's say you're a real estate agent who targets home buyers. As a professional realtor, you know well your target customer's purchasing cycle (also known as buyer journey). Don't you?
To demonstrate you this strategy more clearly, let me first break down this customer's purchasing cycle into separate phases.
Below is the 5-stage cycle of an average home buyer.
#1 Awareness Stage
Everything starts from the customer's awareness about the problem or a pain point. In our case, the problem or a pain point would be a need to downsize a home, get a bigger home, move to another area within a better school district, or many other reasons that require one to buy and/or sell a home.
#2 Research Stage
During the research stage this is when prospects begin researching various aspects pertaining to home buying. For instance, this is where prospective customers start exploring potential areas of relocation such as neighborhoods, suburban towns and sometimes even other states.
#3 Intent Stage
Once prospects narrowed down the desired area where they would want to reside, now they are practically ready to start home shopping process. At this stage, the prospects who are actively searching for homes for sale in a particular area, usually have a higher intent for purchasing a home.
#4 Consideration Stage
At the consideration stage home shoppers would identify a few potential properties that meet their criteria the most. They will be considering each option by weighing all the pros and cons of every property against each other before making up their mind for a final decision.
#5 Purchase Stage
This stage is the favorite stage for both – home buyers and real estate agents. This is the stage in which customers finally decide to go ahead and put an offer on a specific property.
Considering the submitted offer is accepted and the closing is successful, the home purchasing cycle is pretty much over here.
Now let's get to some examples on how you can become a go-to resource in your industry by getting in front of your target audience throughout different stages of their buying cycle.
Ok so, as a realtor who targets home buyers, you can effectively get in front of your target customers during the Awareness, Research and Intent stages.
The last two stages Consideration and Purchase are not possible to target for this strategy. Therefore, you should mainly concentrate on the first three, which is more than enough. Trust me.
Getting In Front of Your Target Audience During The Awareness Stage
Even though there are some extra ways to target prospects in this phase via social media platforms, I'm going to stick to search engines because unlike search engines, social media is not considered to be a "trustworthy medium".
So how can we identify this segment of the audience while they are in their awareness stage?
Honestly there are numerous possible scenarios and circumstances based on which we can target this segment of people.
In fact, we need to be quite creative here because majority of the queries these people will search for in search engines won't be directly related to buying a house.
For instance, some of the future home buyers could already be homeowners but they might be dissatisfied with their current property tax rate.
So these people might search for the following queries with the hopes to relocate to areas with lower property taxes:
Lowest property taxes near me (about 50 monthly searches)
Places with lowest property tax (about 70 monthly searches)
Places to live with low property taxes (about 10 monthly searches)
States with lowest property tax (about 8,100 monthly searches)
Cities with lowest property taxes (about 210 monthly searches)
Counties with lowest property taxes (about 40 monthly searches)
and many other similar queries
Of course this won't work for those agents who target a micro area but for many who cover number of cities and even counties, creating content for those queries will be very helpful.
Here is another scenario. Let's take people who rent a home. Many of these folks are considering to buy one day. So, from time to time, they search for some information on the topic.
These people will usually search for the following queries in Google:
Rent vs buy (about 8,100 monthly searches)
Rent or buy (about 2,900 monthly searches)
Is it better to rent or buy (about 1,900 monthly searches)
Renting vs buying a house (about 2,400 monthly searches)
and many other similar queries
If they get in front of persuading content on the subject, they potentially could and eventually will transition to the Research phase.
So, if you're the one who provided them with that content, they will be already familiar with you whenever they get further along in their home purchasing cycle.
I can bring more scenarios but there are literally limitless amount of them. I believe you got the message across through my first two.
Getting In Front of Your Target Audience During The Research Stage
In the research stage prospects have already realized that they need to buy a home but they still need to gather some additional, important to them information.
During this phase, the prospects usually research neighborhoods, communities, schools, property taxes, realtors, financing, etc. before they are ready to proactively house hunt.
So how can we effectively target this segment of the audience in their research stage?
Similarly to the previous phase, while in the Research stage, prospects also communicate their needs through certain queries using Google's search engine.
Many home buyers would research different areas which they are considering to relocate to. Think how cool it would be if they find your in-depth content on the subject.
For instance, let's say a prospective home buyer is researching Cannery Village, a neighborhood in Newport Beach California.
So he/she will go to Google and type "cannery village neighborhood guide" or something in this fashion.
When Google returns results, prospects will most of the time click one of the first three results.
So if you check that web page, you will see that it is a very detailed and informative guide about Cannery Village Neighborhood in Newport Beach, CA.
This web page thoroughly covers Cannery Village neighborhood and provides detailed information answering every possible question that a prospective home buyer might have about the given location.
This is another amazing example of how to get in front of your target audience while positioning yourself as an expert but in this case – during the Research stage.
Again, I could have added more similar scenarios to demonstrate the Research stage but I'm sure you got the idea through this example.
Getting In Front of Your Target Audience During The Intent Stage
So here is when it starts translating into the new business. Just to make it clear, you still can get business by only targeting prospects in this stage.
You don't necessary need to capture that audience when they were in the other two first stages. But, I can tell you for certain, if you did, it would be WAY more effective!
The reason is simple – they already know you and what is more importantly, they would trust your content (expertise) at this point, which makes a huge difference.
If those folks got exposed to you and your brand throughout those early stages of the purchasing cycle, you would have an opportunity to establish trust between you and your prospects.
Therefore, if they got across your company again but now during the Intent stage, you would have a pretty darn good chance to get them as clients.
So, what exactly home shoppers are searching for at this stage?
In the Intent stage, home buyers already nailed down all the initial information they found during the Research phase and so they are ready to start home shopping.
Since folks in this phase already know the area where they want to buy a home in, they usually search for the following queries (we'll use Newport Beach CA as a desired location):
Homes for sale in Newport Beach CA (about 1,900 monthly searches)
Newport Beach homes for sale (about 2,900 monthly searches)
Newport Beach houses for sale (about 1,600 monthly searches)
and many other similar queries
Also, if they already know a specific type of property that they want to purchase, they could search for the following queries:
Newport Beach condos for sale (about 590 monthly searches)
townhomes for sale Newport Beach (about 50 monthly searches)
mobile homes for sale Newport Beach (about 50 monthly searches)
duplex for sale Newport Beach (about 20 monthly searches)
and many other similar queries
Consumers also could search directly for service provider rather than for home buying keywords. Here is an example:
Newport Beach real estate agents (about 90 monthly searches)
best real estate agent Newport Beach (about 10 monthly searches)
and many other similar queries
There are literally thousands of possible variations how consumers might search directly and indirectly for your real estate services during this stage. I'm sure you got the concept though.
Also, I hope you realize the power of being able to get in front of these people during this high intent phase and convert them into your customers by being that industry resource they needed so much throughout their purchasing cycle.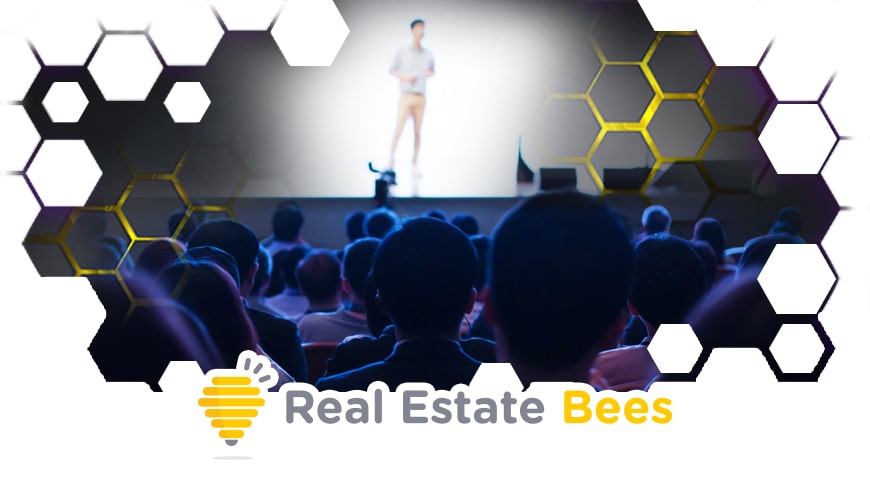 Public speaking is one of the most effective strategies to get your message across to a larger audience, at the right time and in a more impactful way.
Participating in speaking events helps you boost your reputation as an expert by raising awareness about your expertise and extensive knowledge in your industry.
Of course, all of the well-known speakers one day were unknown. Some already did well before speaking while others were broke.
Nonetheless, after starting speaking engagements, especially on large stages, it usually takes one's career to a whole different level.
When people hear you speak on the stage on a certain topic, they automatically perceive you as a subject matter expert.
This is how most peoples' brains work by default. For instance, if we see a person in a white coat, we think they must be a doctor or a scientist and therefore can be trusted.
The same way people look at speakers. If a speaker discusses a certain subject on the stage, they must be a credible source.
Otherwise, who would let them speak on that topic if they were not qualified, right? This is how we are conditioned to think. We are wired to think in certain patterns, for better or worse.
That being said, not all the speakers are created equal. Take for example Tom Ferry, perhaps one of the most sought-after and high-paid coaches and speakers in the real estate industry today.
The authority, influence and credibility that Tom possesses in the marketplace is enormous.
Thousands of real estate agents and brokers from all over the world attend Tom's evens every year and spend hundreds of thousands of dollars on this educational products.
On the Dan S. Kennedy's Hierarchy Pyramid of Income and Power chart, which I referenced in the intro of this article, Tom would be placed on the very top of the pyramid with a Celebrity status.
Yep, I said a CELEBRITY instead of a speaker. In fact, he is considered a celebrity speaker. It is a fact that many speakers in every industry literally turn celebrities.
Celebrity speakers are much more rare but their influence is immense and this is where you want to end up in the end of the day!
The question is: can anyone become a celebrity speaker? The short answer is – YES. These days the technology and the access to a mass media channels definitely make it more attainable.
It doesn't mean it will be easy. No! It will require a strategically-planned and diligently-executed series of actions over long period of time.
If you have all it takes, you'll eventually be able to reach that status of celebrity speaker. It is possible these day more than ever before.
Anyway, before you can think about becoming a celebrity speaker, you first need to adopt the fundamentals that will give you a fast start in your long journey.
As a speaker, you can only keep your audience captive if you give them the right reasons to trust you. Your goal is not to sell but to share your mastery of the subject.
Connecting with your audience on a deep, emotional level allows you to build and nurture connections that have a huge potential of turning into strong and long-lasting relationships.
You'll have to prepare your materials, perfect your content, and learn throughout the process. All your hard work will pay off in the end.
Not only will you be able to expand your network and advance your career, but you'll also gain more confidence and experience while speaking to different audiences.
Becoming an author of a book that provides in-depth insights about the subject matter your target audience is seeking advice in, is an incredible way to secure that coveted expert status.
You see, when you write a book on your subject of expertise, you suddenly transform from an ordinary product/service provider to an authority figure in your industry.
As I mentioned already, it is all positioning! If you haven't authored a book yet, you are just like your competitors. However, if you have published a book, now you stand out – you are an expert that can advise and prescribe.
Dan S. Kennedy, a marketing legend and the author of more than 25 books, puts it this way, "as an authority, you must publish or perish".
It is imperative to author a book on your subject of expertise if you want to be perceived as an expert on that subject.
—
About the Author:
Oleg Donets is a serial entrepreneur, technology and digital marketing strategist with a solid track record. Since 2013, he has been successfully helping numerous startups and established companies from a wide range of industries to launch, grow and scale their businesses by utilizing his innovative technology solutions and progressive marketing strategies. Oleg is a founder of Real Estate Bees, a cutting-edge technology & marketing platform for the real estate industry. Oleg is also a proud business mentor at SCORE, the nation's largest nonprofit organization and a resource partner of the U.S. Small Business Administration.