9 Ways How to Find Free Motivated Seller Leads
From this article, you will learn the nine top strategies to find motivated seller leads with no upfront investment.
While these methods may require you to invest more of your own time, they offer a low barrier of entry to new investors, wholesalers, and agents.
Keep reading to learn how to find motivated sellers for free.
Breakdown of the Experts' Preferred Ways to Find Motivated Sellers
The Real Estate Bees editorial team surveyed over 500 U.S. real estate investors and asked them what strategies they use to find motivated sellers. Below are the results of the survey.
How do you typically find motivated sellers?
Are Free Methods Really Free?
In this guide, we provide effective methods to find motivated seller leads for free.
However, keep in mind that while "free" means no direct monetary investment from your side, it also often means it would require investment of your own time, which is money.
Especially newbies just starting a house flipping business don't understand that oftentimes. If you translate the time investment into money, you will find out that "free" is actually expensive.
During the time you spent on doing work yourself, you could have taken care of more important activities resulting in greater revenue than you have saved by avoiding paying for leads.
If after trying yourself the methods described in this guide you realize that it indeed takes a lot of your own time, which could have been used more efficiently, consider our one-of-a-kind program that gives real estate pros access to highly motivated home seller leads.
Now, let's discuss the ways to find free motivated seller leads.
Let's start with a tried and proven offline way to get leads for wholesaling real estate.
This is a classic method used by real estate investors and wholesalers trying to find cheap properties to flip. It's old, but it still works. You will surely be advised to use it by most coaches at wholesale real estate training classes or house flipping training courses.
Bandit signs are small advertising signs you see on the side of the road while driving. They are used  to advertise everything from garage sales to various services.
The most common examples include signs for garage sales and professional services. They are a proven, effective method for new and seasoned investors to find motivated sellers.
How It Works
The advantage of bandit signs is that you don't need to skip trace real estate property owners. They reach out to you without you chasing them.
This method does require a few supplies, but the costs are negligible. You may already have materials at home to make these signs yourself.
You will need sign blanks, wooden stakes, and a thick Sharpie marker. You can purchase signs and wooden stakes online or through a local sign shop or home improvement store.
You will need a phone number that is not traceable to you. You can get a free phone number through Google Voice. If you can, try to get a number that is easy to remember.
Your signs should include one or two lines that are just a few words long that say you buy houses fast and for cash. The writing needs to be large enough for passing drivers to see it.
Your last line should be the phone number. If you can make it spell a word, this will be easy for drivers to remember.
You could pay a local sign company to print your signs, but making them yourself is free, and handwritten signs are more effective.
Bandit signs are illegal in many cities. Some investors use them anyway, but keep in mind this option can cost you significant fines.
You may be able to place your signs on private property, such as in front of shopping centers or abandoned buildings in heavily-trafficked areas without violating city ordinances.
Check with code enforcement to learn the regulations in your area.
For the best results, place at least 100 signs each month. But to start and see how it goes, you can use just a few. Drive around weekly and replace any missing signs.
Ask callers where they saw your signs. This will help you track the most effective locations.
Bandit signs are one of the most popular ways how real estate wholesalers find deals.
Pros
Cons
Illegal in many cities
Takes time to create signs
Frequent need to replace signs
Driving for dollars is the practice of driving to your target neighborhoods looking for investment properties.
This is what real estate birds dogs usually do to find motivated house sellers for their wholesalers and investors.
How It Works
This is a method to find properties whose owners need to sell but might not actively search for a buyer. These are often abandoned properties and fixer-uppers.
Many fixer-uppers are owned by tired landlords or the elderly who can no longer care for the property. Some may still live in the property.
These properties are easy to identify. Look for poorly maintained properties that have characteristics like overgrown lawns, boarded-up windows, or notices from the county.
When you find a property, you will need to access public records to look for the owner. Some of the best driving for dollars apps and other tools for real estate investors make it easier by pulling this information from records automatically.
While this method can provide off-market property opportunities, it requires more work to qualify those leads. A property's bad condition doesn't necessarily mean that the owner wants to sell it.
When talking to the owner, you need to go through the whole motivated seller questionnaire to understand how motivated the owner is.
Pros
Not much competition
Easy to identify
Cons
Time-consuming
Owners can be hard to track down
Potential for property issues or liens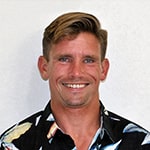 Driving for dollars works for me. I choose the areas and properties that I find most desirable.

Also, I'm typically not competing with other buyers (although in the last 2 years it seems like even Maui sellers have multiple buyers mailing them now).
#3 Attend Tax Foreclosure Auctions
Tax foreclosure auctions occur when a property owner fails to pay property taxes. Depending on your state, investors bid on the tax lien or tax deed. The auction is public and free to attend.
How It Works
The winning bidder does not win the property, but the tax deed or lien. While the end result can be similar, there are some differences.
With tax liens, the winning investor pays the past-due taxes and collects interest and penalties from the owner. In many states, investors bid on the interest rate, where the lowest bid wins.
If the property owner fails to pay the taxes, the investor can foreclose on the property.
With tax deeds, the winning investor gets the deed to the property, but often there is a redemption period, where the owner can pay taxes and interest to win back the property.
In most cases, property owners redeem the property. The profit is made from interest and penalties. Occasionally, the investor does get the property.
Pros
Low upfront investment
Slight possibility of gaining the property
Cons
Competition with other investors
Collections and foreclosure actions are necessary in some cases
Apart from the auctions, there are additional ways to find tax lien properties described in a separate guide.
FSBO (For Sale By Owner) sellers are among the types of motivated sellers that are in high demand by real estate investors and real estate wholesalers.
They try to avoid paying a Realtor's commission. These could be typical homeowners, investors, or retiring landlords.
You can find FSBOs by driving around and looking for "For Sale by Owner" signs, visiting FSBO advertising sites online, or visiting classified ad sites like Craigslist.
How It Works
The best approach is to call for an in-person appointment. Get a motivated seller phone call script in my other article.
During the appointment, ask questions to determine selling motives and urgency.
Some FSBOs are unrealistic about the price. You can offer a higher-than-market price if they are willing to accept a lease option or contract for deed.
Most will want to sell outright. These sellers may require follow-up over time before you can work with them.
As time passes and they become more urgent, they will become willing to bend on price. In the meantime, keep in touch and work on building rapport.
FSBOs with high equity that need to sell quickly are good prospects for wholesaling. FSBOs with fixer-uppers, such as landlords and other investors will be willing to accept low prices.
Pros
A never ending source of free leads
Multiple investment strategy options
Cons
May take several contacts to get a deal
Competition from local realtors
Door knocking is effective because you are able to meet homeowners face to face and build that connection.
#5 Look for Expired Listings
Expired listings offer investors some of the best opportunities because these motivated sellers are often frustrated or increasingly urgent.
How It Works
You can find expired listings in public records online or at your courthouse, but searching records can be time-consuming.
You may be able to find expired listings through social media. Facebook groups are free, and you could set up a Facebook group for sellers in your area whose listings have expired.
Building a Facebook group requires regular posting and maintenance, but as you become well-known, sellers with expired listings will come to you.
The easiest way to find expired listings is through the MLS with the help of a Realtor. Many charge a fee, but you could avoid this by becoming a client.
Many expired listing sellers are frustrated with Realtors and would welcome the opportunity to sell off-market.
Keep in mind some of these listings expire due to an unrealistic asking price. You may have to be frank with these sellers.
Due to the time on the market, they are often open to this conversation. Your candor can help establish you as an authority they can trust and persuade them to work with you.
Finding listings according to specific criteria and arranging them in a list doesn't require deep knowledge of real estate.
It's one of those boring and monotonous tasks that could be outsourced to one of the best virtual assistant companies for real estate investors to save you time.
Pros
Increased motivation and urgency to sell
Increased openness to work with investors
Cons
May have to work with a Realtor or get creative to find these listings
May have to overcome unrealistic pricing expectations
#6 Create Free Online Ads
Free classified ad websites like Craigslist and Oodle receive high volumes of traffic and are ideal mediums to alert sellers in your area that you are buying houses quickly and for cash.
How It Works
You will need to set up accounts on each classified ad website before posting an ad. You will need a headline that attracts attention and a description that entices sellers to call.
Use the same message as for bandit signs described in the earlier section.
These sites are organized by local area with multiple categories in each. Craigslist is available almost everywhere, but other sites may be limited.
Your ad would be in the professional services section. Not all free classified ad websites have this. Here are some websites that do:
Be sure to follow the rules. For example, Craigslist does not allow you to post the same ad in multiple cities or categories. Failure to follow guidelines can result in ads being taken down.
When you receive calls or emails from your ad, try to schedule an in-person appointment.
To automate the process of pre-qualifying leads, consider using one of the best live answering services for real estate investors.
Pros
Fast, easy ad setup
Can advertise on multiple free websites
Cons
May receive email spam and multiple inquiries from scammers
May not be available in all cities
Public records offer a wealth of information about distressed homeowners. Distressed homeowners are those facing foreclosure due to default of their mortgage or tax payments.
How It Works
When borrowers default on a loan, mortgage companies send a Notice of Default to the homeowners and file it with the county recorder. It then becomes public record.
You can access these records online or through the county recorder's office at the courthouse. You can access property tax default records through the county tax assessor.
To help you find up-to-date homeowners' contact information easier, we reviewed the best skip tracing software for real estate investors and the best apps for wholesale real estate some of which include this function.
Many distressed home sellers do not have the means to bring their properties into good standing. Their only choices are to sell or end up in foreclosure.
Their properties may need repairs, or they may have too little equity. They may be located in a slow market where they cannot get a fast enough sale through traditional methods.
When contacting these homeowners, be sensitive to the fact that losing their homes to their real estate lenders could be traumatic. Try to approach them with compassion and offer solutions that help.
A short sale is sometimes the best option. In many cases, sellers are content to pay off the mortgage and get a little cash for moving expenses.
You can also invest in properties that are already foreclosed. Read our article How to Get REO Listings from Banks.
Pros
Opportunities to help homeowners in need
Convenient when records are available online
Cons
Unwillingness to let go of the property by some distressed homeowners
Online records may not be available in all localities
If you are interested in foreclosed homes or houses in pre-foreclosure, read our article on how to find distressed properties to flip or wholesale that offers additional methods.
Estate sales occur when heirs sell off the personal belongings of the deceased. The house itself often needs to be sold as well.
How It Works
Estate sales are often advertised weeks in advance. Many families hire professional services to coordinate them. You may need to go through these companies to reach the heirs.
Professional estate services are a valuable resource for your network. They work closely with families and are often the first to know when an estate is for sale.
You may be able to speak with the family during the sale. If they do indicate the need to sell the house, set an appointment after the sale when the family is less busy.
These houses often do not have mortgages, which provides flexibility in pricing. Heirs are often willing to sell at low prices so they can unload the house quickly and move on in their lives.
Some estates may be in probate, in which case you may have to wait for the process to complete before you can complete the sale.
Pros
No cost to attend sales
Low competition
Unique networking opportunity
Cons
Time-consuming
May have to work evenings and weekends
May have to wait for probate
Another way to get probate property deals is sending probate letters to executors of the estate or probate attorneys via direct mail.
We have samples of probate letters for real estate agents and sample probate marketing letters for real estate investors to help you get these leads easier.
#9 Team Up with Other Professionals
One of the most common mistakes investors make is trying to operate as an island. The best business opportunities often come through referrals.
How It Works
Get to know people in your area who come into contact with motivated sellers. You can join your local real estate investor's association, but for an extra edge, network independently as well.
Real estate agents often come across motivated sellers they are unable to help. If you agree to work with agents on deals they refer, they will be happy to send you motivated sellers.
Divorce and bankruptcy attorneys often have clients who need to sell quickly. On the other hand, your distressed sellers may need their services. So you can refer to each other.
Be creative. Think of the people already in your network. Even your hairdresser could be a source of referrals.
Pros
Creates win-win situations
Can help you become more well-known over time
Cons
May have to compete with investors for some referrals
I like getting leads through referrals because someone has already built credibility for us on the front end, and that means we did a good job with the person who referred us.
I prefer networking. Someone always knows about a deal. It's about finding that right person at the right time.

It's wonderful because you not only make business relationships but friendships as well.
Other Methods to Find Motivated Sellers
HouseCashin Investment Property Marketplace
Another way to find motivated seller leads is to use HouseCashin investment property marketplace.
The marketplace is a robust off-market property search engine where you can find properties listed by motivated sellers.
Although not free, HouseCashin provides affordable and easy access to qualified motivated sellers.
Sellers come to HouseCashin platform to sell their properties fast to investors who submit their cash offers to sellers.
When you see on the marketplace a property that interests you, after subscribing to our paid lead program you will be able to unlock the seller's contact info and reach out to them.
Your Own Lead Generating Website
There are various fix and flip and wholesale real estate investor website templates, as well as solutions for agents.
They are not free, but for professionals who are serious about their business, a website can be a wonderful source for generating motivated seller leads on autopilot.
For example, you can create multiple web pages letting people know that you buy houses in various locations. Create one page for each location and fill them up with meaningful, relevant to each location content.
Users searching keywords such as "sell house fast Houston" online will be able to find those targeted location pages and contact you.
You can also publish blog posts on topics that are searched by motivated sellers to attract them. Include a section advertising your offering and a contact form to collect their information.
Optimizing your website requires knowledge of real estate SEO (Search Engine Optimization). You can learn and do it yourself or hire a specialist.
This method requires time and financial investment. But on the other hand, it enables you to own a 24/7 lead generation machine that keeps your deal pipeline full.
Real Estate Bees are currently finalizing the development of the most detailed and thought-through website solution designed specifically for real estate investors, wholesalers, and agents.
Apart from being highly optimized for motivated seller lead generation, it also provides you with a powerful property disposition engine that helps you sell properties you are planning to flip or have under contract as a wholesaler or agent.
This property disposition engine is Real Estate Bees' proprietary development. It allows you to have your own online property marketplace on your website as well as syndicate your properties to other marketplaces.
This functionality is similar to the IDX technology, the one you often see on realtors' sites. But unlike those, it doesn't pull properties from MLS.
It will feature your own properties for sale and allow you to syndicate them to various third party marketplaces.
It also has an option to enable a Reciprocity Network feature that will list additional off-market real estate from other sources.
Enabling this feature will list your own properties for sale on those other sources in return. This is why it is called Reciprocity Network.
This will allow you to expand your reach drastically, and dispose of your contracted or rehabbed homes faster than ever.
This cutting-edge website solution is currently in development. To become the first to know when it is released to a small group of beta users, send Real Estate Bees a message with this request.
___
If you want to contribute your expert advice on a topic of your expertise, feel free to apply to our Expert Contributor Program.
___
About the Author
Kristina Morales is a REALTOR® with over 20 years of professional experience. She actively practices real estate in Ohio but also has practiced real estate in California and Texas. Conducting her real estate business in three states has allowed her to gain unique experiences that make her a well-rounded realtor. She obtained her Bachelor of Arts in Business Management and her MBA with a concentration in Banking and Finance. Prior to real estate, Kristina had an extensive corporate career in banking and treasury. She ended her finance career as an Assistant Treasurer at a publicly traded oil & gas company in Houston, TX.
DealMachine Review
Real Estate Investing Resources
Real Estate Technology
Real Estate Wholesaling Resources