I Just Got My Real Estate License, Now What?
In this guide, I will tell you about what happens after you pass your real estate exam and get your real estate license.
Before you get started in real estate, you need an action plan to help ensure you're set up for success. This article is your step-by-step guide to getting your real estate career off to a smooth start.
These are the steps I followed in 2006 when I started my own real estate career, and I have sold well over $100 million worth of real estate since that time with Freestone Properties, an Asheville real estate brokerage.
And I continued by helping new agents in my own real estate firm ensure their own success.
Now, let's start with discussing what to do after passing the real estate exam.
Table of Contents
6-Step Action Plan After Passing Your Real Estate Exam
What Can I Do With My Real Estate License Besides Selling Houses?
6-Step Action Plan After Passing Your Real Estate Exam
Brainstorm What Type of Career You Want
So what to do after you get your real estate license?
The next step after passing the real estate exam, but before you jump into real estate brokerage, is to write down some real estate goals that help describe the type of career you want to pursue.
What Types of Properties Do You Want to Sell?
After getting a real estate license, you should think about the types of real estate you want to sell. Are you more interested in residential properties, new construction, tracts of land, or perhaps commercial properties?
Different property types have different nuances and require different expertise. It's important to focus on the types of real estate that interests you, so that you will enjoy the niche that you choose.
If you really like the idea of helping buyers choose their finishes and other selections, you may want to consider new construction and possibly working for a developer.
If you like the idea of doing the math to evaluate income-producing properties, you may want to consider multifamily or other kinds of commercial real estate.
Maybe you'd rather spend your time outdoors exploring large tracts of land with rural real estate buyers. Or perhaps you want to focus solely on the neighborhood in which you live, selling existing homes and residential building lots.
Keep in mind that the size of your market will help to determine if you can focus on just one niche, or if you'll need to grow your set of real estate agent skills and qualities to accommodate several specialties.
In smaller markets, you may need to become proficient in more than one niche in order to have enough business.
How Much Do You Want to Work?
Probably the most important factor for new real estate brokers to consider is how much you want to work. To people outside the industry, real estate has a reputation for a business that allows flexibility in your schedule.
To some extent, this is true, but it can also take over your life and consume you if you don't set some boundaries. Decide upfront how much time you are willing to dedicate to your real estate business.
Check out our article on the pros and cons of being a real estate agent, which touches on the topic of time flexibility when working as a realtor, through insight shared by some of the experts in the industry.
Full-Time Real Estate Agency
Full-time agents typically work more than people that have a more traditional 9-to-5 job. They work during the week, work frequently on the weekend, and often find themselves working well into the evenings with regularity.
Buyers and sellers will expect you to be available and responsive, especially when a new home comes on the market or you are negotiating a contract.
Part-Time Real Estate Agency
For some new agents, a part-time agency has a lot of appeal. Imagine being able to work with clients during your free time, or only on the weekends.
Well, it doesn't always work that way, but you can choose to limit how much time you work as a part-time agent.
Probably the best way to do this is to limit the number of clients you're willing to work with at a time. Just a few active buyer clients is enough to make a part-time job feel like a full-time job for a while.
Licensed Real Estate Assistant
Another great way to learn the real estate business is to start working as a licensed real estate administrative assistant.
Depending on the state, licensed real estate assistants can perform more tasks than non-licensed assistants, including showing homes to prospective buyers.
Working as a licensed assistant will expose you to many different aspects of the industry, including drafting listing agreements, offers, and contracts.
You will also become very proficient in using your board of REALTORS' MLS system, a skill which will be invaluable in your real estate career.
You'll gain experience in marketing homes, scheduling home inspections, and working with lenders and title companies to move toward closing.
Being a Referral Agent
If a full-time or part-time agency becomes too hectic, don't be afraid to say "no" to new business and refer those new clients to other agents that you trust.
Take the time to create relationships with several other real estate agents in different areas or who specialize in different price ranges or property types.
Then, when you have a client that fits that criteria, you'll have a trusted agent to refer them to (for a referral fee, of course).
Besides referring leads to other agents, you can also provide them to real estate wholesalers and real estate investors who prefer to conduct transactions without agents involved. Learn how to find real estate investors from our article.
Some agents work solely as referring agents. These agents don't work with buyers or sellers, but simply refer real estate leads to other brokers.
Most of these agents have a proven track record within the industry, and are no longer very active or are retired. You're more likely to have success as a referral agent once your network knows you as an established real estate agent.
However, you become a referral real estate agent earlier, if you are knowledgeable about lead generation. For example, you may know how to create an efficient real estate website and SEO-optimize it as well as build a strong online presence using other channels.
Once you have a steady flow of leads, you can refer them to other agents on a regular basis.
Once you have a good idea of the type of properties you'd like to sell and how much you'd like to work, you need to look for a sponsoring broker. If you already have a sponsoring broker that you found before the exam, you may skip this step.
Depending on your state, your broker will be called a managing broker, a broker-in-charge, or simply a broker.
Here are a few things for a new real estate agent to consider when it comes to choosing which broker they want to work for.
Will Your Broker Provide Training and Education?
You certainly learned a lot in real estate school, but there is so much more to learn to ensure that you become a successful realtor.
Many real estate brokers offer training programs and classes for new agents. These may be structured classroom-style seminars, or you may find a broker that offers on-the-job training where you can shadow an experienced broker.
You can also get some insight by reading our article with tips on how to be a successful real estate agent. It consists of advice provided by experienced successful realtors.
Also, check out the article about the most common mistakes new real estate agents make during the first year.
Will Your Broker Provide Leads?
All the real estate education in the world won't amount to anything if you don't have leads. Leads can be buyers or sellers, and you'll need them throughout your entire career.
Some brokers are very good at being "rainmakers," and bringing in a high volume of qualified real estate leads. Other brokers provide very few, if any, leads.
These brokers may offer a higher commission split, which can be attractive to agents who can generate their own leads.
Commission Splits
Any time an agent closes a sale, some portion of the commission is owed to the broker. Brokers can offer a wide range of commission splits, including tiered commission splits and even flat fee splits.
Office Support
Another very important factor to consider, and one that is often overlooked, is how much office support your broker will provide.
This can include an administrative support staff, the physical office space itself, use of a conference room, and access to a printer and copier.
Brokers can even provide things like real estate signs, lockboxes, and flyers. Or, those things can be the responsibility of the individual agent.
Reputation
All of these aspects of a broker are very important. But the most important thing is the broker's (and the firm's) reputation within the community.
As real estate is very much a word-of-mouth business, you want to be sure your name is associated with a broker that is well-respected both by the public and by other real estate agents.
For more information on selecting a brokerage, check out a detailed article by an experienced realtor Kristina Morales about choosing the right broker to work for as a new agent.
Consider Joining a Real Estate Team
The brokerage you will join may have one or a few real estate teams you can become part of. These teams are led by experienced agents called 'team leads' or 'mega agents' whose help you will need.
You should view your team leader as you would your broker, and evaluate them on similar criteria.
Many real estate teams provide a variety of in-house support services. Starting a career as a part of a team is usually easier than without one.
It's a separate topic that deserves its own article. We have a guide on how to join a real estate team written by an experienced team leader — Joe Boylan.
Now that you have a broker you joined, it's time to activate your license and become affiliated with your new firm.
The first step is to contact your state's governing board to activate your license and fill out the appropriate paperwork to become affiliated with your broker. Your broker likely needs to fill out paperwork as well.
This makes you an active real estate agent, but not an active REALTOR®. The National Association of Realtors (NAR) is a trade association, and it's not necessary to be a REALTOR® in order to sell real estate.
However, it is necessary to be a REALTOR® in order to join Multiple Listing Service (MLS), as MLS systems are owned by REALTOR® associations.
So, you'll need to contact your local Board of REALTORs® in order to start your membership. You will need to join not only your local or regional association, but you'll also need to join your state association and the NAR as well.
To make things easier, your local board will handle your state and national membership for you.
Get the Tools of the Trade
As a new real estate agent, there are some things you'll want to get to ensure you can do your job effectively. Below are a few examples of the most important items. For more ideas, look at our list of realtor supplies.
Laptop
If you don't already have one, you'll want to buy a quality laptop computer. Don't even think about buying a desktop. You'll have frequent sessions on the computer, and some of those will happen on vacation.
Get a computer that is light enough to travel well but that is also powerful enough to replace a desktop.
Tip: A backlit keyboard is a worthwhile upgrade! Learn more about the best models from our article Best Laptop Computers for Real Estate Agents.
Business Cards
Be sure to have high quality business cards printed. Buy more than you need, and don't skimp. It's worth another penny or two per card to be sure you leave a good impression.
Be sure you always have cards on you. Keep extras in your car, a few in your wallet or purse, and be sure your spouse keeps a few on hand to give out as well.
Business cards can be ordered from printing companies. There are print-on-demand services that accept orders online and there are smaller local printing companies.
Choose what fits better for you from our directory of the best printing companies for real estate businesses in your area.
Real Estate Signs
Over the course of your career, you'll spend a lot of money on real estate signs, and that's a good thing! The more signs you have, the more listings you have.
You'll also need "sign riders" that say things like "Open House," "Under Contract," etc.
Some real estate firms will provide your signs, or will have an inventory of signs you can buy. If not, you'll want to form a relationship with a local sign company who can help design your signs and print them for you.
Of course, you can buy signs online, but the shipping can be expensive, and you may need some graphic design experience in order to ensure that your signs look professional.
Keep in mind that a local sign company can also perform other print jobs, such as business cards and real estate flyers.
If you're looking to save some money as you enter the business, you can likely get by just fine with just a sign or two.
After all, most new agents start out as buyer's agents. However, the listings will come, and you want to be sure you have a For Sale sign in your inventory.
Key Lock Boxes
You'll need real estate lockboxes in order to store a key securely for other agents to show your listing to their clients.
Depending on your local board of REALTORS®, you may have access to a network of electronic lockboxes. These are typically called "Supra" or "Sentri" lockboxes.
These boxes are controlled by a smartphone app and are accessible by all the brokers in your board. They do cost money, and they're not cheap, but the features they offer are incredible.
You can also use manual combination lock boxes that you pick up at your local hardware store, but use those sparingly.
The security and convenience of electronic lockboxes far exceed conventional boxes, and they are far more professional.
Read about the most popular, reliable, and convenient lock box models in our article Most Secure Outdoor Key Lock Boxes for Real Estate Agents.
Measuring Tape
When you measure homes for listings, you'll want a 100-ft measuring tape. Exterior measurements can be long, and you need a long tape to be sure you can measure long walls.
I also recommend buying a laser tape measure to measure interior walls. These ingenious gadgets are also very helpful when you're showing a home to prospective buyers who want to know the room measurements.
Ensure a Professional Image
Once you're active in the real estate business, be sure you take steps to make yourself look like a real professional.
Create a Professional Email Signature – Use a professional email signature whenever you interact with clients. Be sure to include relevant contact info and a link to your website. If you have a social media presence, include links to those profiles as well. Read our article with examples of realtor email signatures that generate leads for ideas.
Get Professional Headshots – It's a good idea to get new headshot photos when you start in the business. Be sure to update them every few years. Dress nicely and smile. Sometimes, viewing your headshot is the only time your client will ever see you before deciding whether or not to hire you as their agent. Choose one of your local top-rated real estate photographers from our directory for the best pictures.
Check Your Wardrobe – Be sure to dress professionally whenever you're meeting with clients or other agents. This may sound obvious, but you'd be surprised at how many agents ignore their appearance when they are showing homes that cost half a million dollars or more. Read our guide on what to wear as a real estate agent.
Wash Your Vehicle – In real estate, your car is not just a way to get you to the office. It's also a mobile office and conference room. Sometimes you will have to give your clients a ride to the property they are viewing. Keep it washed, inside and out, regularly. You don't have to drive a luxury car, but you should keep your car well-maintained.
Build a Strong Online Presence
A decade ago you could say a strong online presence gives you an advantage over those agents who don't have it. Today, being available and visible to your potential clients online is simply vital.
You may know older generation agents who only use old school, offline marketing methods and are still in business.
This may still work for them just because they already have a client base and partner network built over the decades.
As I'm explaining in my article, advertising in a real estate magazine won't sell you a house. Now, let's look at what you need to set up to make sure you can be found by potential clients online and professionally present your service to them.
Get a Website
One way that agents obtain leads and market themselves is through a website. If you're going to build a real estate website as a realtor lead generator, there are certain steps you should take to ensure that you attract new clients and market yourself effectively.
The steps to building a quality real estate website are beyond the scope of this article, but we have several detailed articles about the subject. Be sure to read our helpful article on real estate website design.
If you want to include MLS listings on your site, be sure to read about what IDX is for real estate websites and how it works. When you are ready, choose one of the best real estate IDX providers.
Once you've taken these steps to build your new real estate website, it's time to start optimizing your site for search engines. If you're new to SEO (Search Engine Optimization), check out our real estate SEO guide.
Use Social Media
One of the best sources of new real estate business is your social sphere. And it's easy and free to use social media to let your friends, family, and acquaintances know that you have just passed your exam and have a real estate license.
Among these people, there may be your potential clients. Even if they don't have an immediate need for a real estate agent, they can mention your name to their friends who may be ready to buy or sell a home.
Be sure to follow other real estate influencers in your market to learn some techniques for managing an effective social media presence.
Over time, you can become a local expert and share useful real estate-related content on social media with your followers. These people are one of your real estate lead sources.
Join Business Directories
List yourself as a real estate professional in various online business directories used by your potential clients and partners when they search for realtors.
Start with the Real Estate Bees' real estate agent directory. It's an extensive national resource to help real estate professionals showcase their business to potential local clients and partners.
Create a free profile that will present your services and qualifications to your potential clients. It will be automatically included in the list of the real estate agents in your target geographical area(s) available to the public.
Your potential clients searching for local agents online will be able to find you in our directory and ultimately hire you.
The more detail you add to your profile and the better (honest and valid) customer reviews your profile gets, the more likely you will get listed among the top-10 real estate agents in your target location(s).
This will give you even more visibility and more leads.
New Real Estate Agent's Checklist (Free PDF Download)
For your convenience, we at Real Estate Bees created this printable checklist based on the article. You can download it for free in PDF or .docx (MS Word).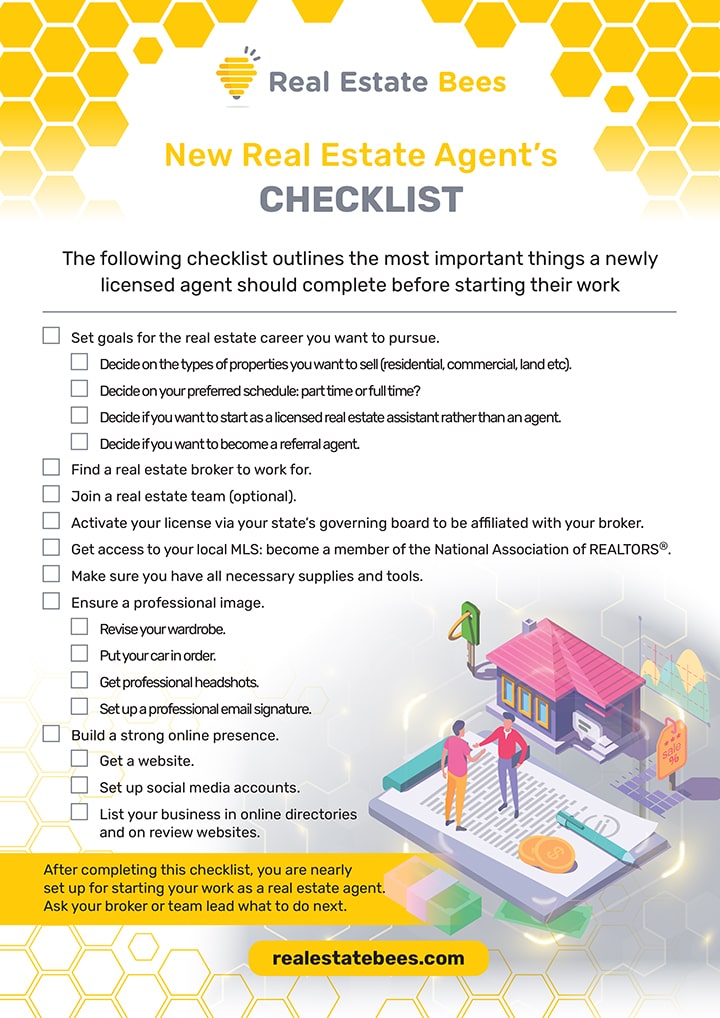 What Can I Do With My Real Estate License Besides Selling Houses?
What Can You Do With a Real Estate Salesperson License?
One of the great things about having a real estate license is that it doesn't limit you to just selling houses. You can also sell land or commercial property.
But you don't even have to get into sales. You can also work in leasing and property management, which can be residential or commercial. And as mentioned above, you can also make referrals to other agents.
Depending on your state, your initial real estate license may be called different things, but a "real estate salesperson license" is a commonly used term for an agent who is not a managing broker.
If you have a real estate salesperson license, you are allowed to represent:
buyers
sellers
tenants
landlords.
In addition, once you get your real estate license as a salesperson, after a while you are eligible to get a real estate broker license.
You may work in the industry for decades and never become a broker. Or, you may decide to become a broker and hire other agents to work for you.
What Can You Do With a Real Estate Broker License?
There are a couple reasons why you may decide you want to take the real estate broker test and get your broker license.
If you're interested in working for yourself rather than for a broker, you'll need a real estate broker license. This way you will be able to keep your agent commission without sharing it with your broker. You won't have to be a part of a brokerage firm and follow their rules.
You'll also need a broker license in order to manage other real estate agents. You can hire and supervise other realtors working for you as their managing broker and sharing their commission with you.
To help you build and grow your real estate career quickly, we at Real Estate Bees created a directory for real estate professionals. It's designed to help you get more exposure for your business, including receiving leads. Create a free profile by signing up here.
About the Author:
Scott Russell is the Broker-In-Charge and owner of Freestone Properties in Black Mountain, NC. Licensed in North Carolina since 2006, Scott's areas of expertise include luxury home marketing, multi-family properties, and commercial real estate. He has been the top-producing real estate agent overall in Black Mountain as well as ranked in the top 2% of all Asheville Realtors in sales production since 2006.
__
If you want to contribute your expert advice on a topic of your expertise, feel free to apply to our Expert Contributor Program.