6 Best 3D Virtual Walkthrough Software Apps (2023 Reviews)
Real Estate Bees' editorial team asked a number of industry-leading real estate professionals to share their expertise on the best 3D walkthrough software apps to help our readers make a more educated purchase decision when researching available solutions.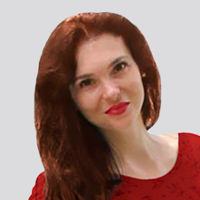 With the help of the experts, we identified the best 3D real estate virtual tour software and evaluated their features, pricing information, pros, and cons. Visiting retailers of the listed products by clicking links within our content may earn us commissions from your purchases, but we never receive any compensation for the inclusion of products and/or services in our consumer guides. Read our editorial guidelines to learn more about our review and rating process.
Table of Contents
Best Free 3D Virtual Tour Software Apps
Best Paid 3D Virtual Tour Software Apps
Best Free 3D Virtual Tour Software Apps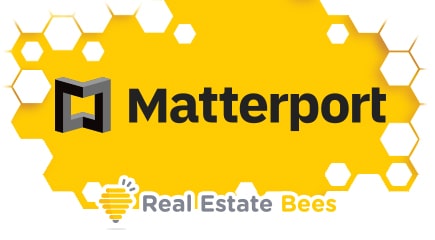 Matterport 3D Showcase is the best free 3D virtual tour software. The platform allows users to create interactive 3D models of real-world spaces by using specialized cameras like the Matterport Pro 2, Matterport Pro 3, third-party 360 cameras, or even a smartphone.
This free 3d walkthrough software has unique features such as highlight reel and guided tours.
The highlight reel allows you to curate a gallery of a space's most interesting features, directing your audience's attention to key aspects like expansive views or significant upgrades.
For a more immersive experience, the guided tour feature enables viewers to enjoy an automated walkthrough of the property, showcasing its major features effortlessly.
Features
Dollhouse View
Matterport's 3D dollhouse view is a powerful tool that allows users to see a property from a bird's eye perspective. As users peel away each floor, they gain a clear and unobstructed view of the levels below.
This makes it easier to explore and understand the layout of the entire space.
Floorplan View
Matterport's Floorplan View, with its recent floor navigation enhancement, offers users a powerful and comprehensive tool for visualizing and planning spaces.
It provides an orthogonal, top-down view of a property and the ability to toggle between floors.
Guided Tours
Matterport's guided tours are a powerful way to tell the story of a space. They allow you to create a series of stops that visitors can click or tap to experience.
You can add on-screen titles and descriptions at each stop to provide important context and messaging.
Branding
Matterport lets users put their branding front and center in their 3D creations. A new "Presented by…" field allows them to include their company name (or their client's) on the loading screen and at the top of any 3D showcase.
It is an ideal way for users to ensure their brand is prominent within their Matterport creations.
Plans and Pricing
Matterport offers a free plan and four paid plans: Starter, Professional, Business, and Enterprise.
The free plan includes 1 Active Space for 2 Users and offers basic features, plus sharing, labeling, and more.
Note that spaces on the free plan can't be shared publicly unless they were captured with a smartphone camera.
The Starter plan starts at $11.99/month, or $9.99/month when billed annually. It provides 5-20 active spaces for 3 users.
It offers all the free features, plus access to schematic floor plans and MatterPak technical files.
It also publishes to Google Street View, Realtor.com, Homes.com, Redfin, and local listing portals, while providing traffic analytics.
Spaces created with cameras like the Matterport Pro 3, Pro 2, Pro 2 Lite, or the Leica BLK360 G1 cannot be uploaded on Starter plans.
The Professional plan starts at $65/month, or $55/month billed annually. It includes 20-150 active spaces for 10 users, plus all the features in the Starter plan.
This plan also features fast (24hrs) and express (6hrs) turnaround for floor plans and technical files, 50GB attachment data for notes and tags, automatic face blurring, account analytics tools, and access to BIM, E57, and TruePlan files.
The Business plan starts at $321/month, or $269/month billed annually and provides 100-300 active spaces for 50 users.
It includes all Professional features, plus:
deeper collaboration across teams
integration with Autodesk Construction Cloud
500GB attachment data for notes and tags
flexibility to scale from 100 to 300 spaces
full analytics and reporting with export capability.
The Enterprise plan has a custom pricing model and includes all Business features, plus:
SAML Single Sign-On for scalable user access
5 TB attachment data for large team collaboration
access to robust APIs/SDKs for large scale automation and integrations
centralized account admin with audit logs and enterprise reporting
access to a customer success manager and enterprise-level tech support.
Pros and Cons
Pros
Varied tour sharing options. Tours can be shared on social media, emailed via a link, embedded on a realtor's website, posted to the MLS, and published to Google Street View, VRBO, etc.
Variety of space views. Matterport allows users to explore a space from any angle, giving them a comprehensive view.
Easy to use. The platform is designed to be accessible and straightforward on both desktop and mobile, allowing users to quickly create detailed 3D models with unparalleled quality.
Cons
Potential for alignment errors. Matterport calculates the square footage based on the total scanned area, which may differ from the actual livable square footage. Alignment errors can also occur when the Matterport model is not accurately stitched together, causing distortions or inaccuracies in the final model.
Poor customer support. Based on some customer reviews, customer support on the platform is slow and inefficient.
Expensive paid plans. Matterport's paid plans come with lower limits on the number of tour spaces that can be created, and are more expensive than other 3D walkthrough software tools. In addition, the free plan only supports one space, i.e., you can host just 1 tour.
Integrations
SharpLaunch
Skipp
Phoria
Captur3D
Procore
Autodesk
Realtor.com
Best Paid 3D Virtual Tour Software Apps
3DVista is one of the best 3D tour software solutions available today.
It's a comprehensive virtual tour software app that allows users to create immersive and interactive virtual tours by combining 360-degree images, videos, audios, and other multimedia elements.
The program offers unlimited virtual tours, a user-friendly 3D tour editor, and a variety of powerful hotspots for a one-time fee.
This is a 3D and 360 virtual tour app for businesses in architecture, education, real estate, hospitality, and tourism.
Features
Video Hotspots
3DVista allows users to create animated panoramas and video hotspots. With this feature, users can create a virtual person or a production line.
This person can move inside the panorama and when clicked, explain or demonstrate from within the panorama.
Live Panoramas
3DVista allows users to create a timelapse 360-degree interactive show by combining several panoramas of the same spot taken at different times.
These images can be combined into one interactive show, showing how lighting conditions change during sunset, or how a house's appearance changes from empty to crowded.
Transition Effects
3DVista offers 3D transition effects that make viewers feel like they are moving through a space naturally rather than simply switching from one location to another.
It allows seamless navigation between locations, making the experience feel more immersive and realistic.
Hosting Services
3DVista offers hosting services for users who do not have their own servers or know-how to upload files by using FTP programs.
It provides a convenient platform for hosting and organizing files, making it easy for users to keep their content organized and accessible.
Plan and Pricing
3DVista requires a one-time payment of 499 euros. This payment includes add-ons like a free Stitcher 4 subscription and optional 3DVista hosting for 3 months.
Users can purchase add-ons from the 3DVista marketplace, which features a variety of 3D templates, skins, icons, panoramas, and more.
They can also purchase services like the hosting service which costs 99 euros per year, or the Notes feature for 9 euros per month.
New users can also download a free trial version of the 3D tour app, which is available for both Windows and iOS systems.
Pros and Cons
Pros
Shortcuts. 3DVista has a set of time-saving shortcuts, which it calls "quick actions." These speed up the process of creating hotspots.
No monthly subscriptions. The 3DVista software costs a one-time fee of 499 euros to use.
Cons
Steep learning curve. New users may have a hard time navigating the software's many tools and features.
Expensive hosting services. 3DVista offers expensive hosting services with the Starter plan offering 1GB of storage space and 3GB of daily bandwidth for 99 euros per year. Tours ideally require more than 1GB of storage space, so users have to opt for higher plans that cost more.
Integrations
Google Maps
Gevme
Stitcher
Sketchfab
Google Street View
The iGUIDE 3D tour software offers a comprehensive package for showcasing properties in an engaging and informative manner.
As one of the best 3D tour software tools, iGUIDE provides everything you need for listing your property and marketing it on social media.
This includes laser-accurate room measurements and dimensions, professional property photos, immersive 3D tours, and floor plans.
With its patented PLANIX camera, iGUIDE offers an innovative and time-saving solution for creating immersive 3D property tours.
Instead of 3D scanning, iGUIDE utilizes "time-of-flight" LiDAR laser technology, providing superior accuracy and range.
This wider area detection reduces the number of shots needed, allowing you to scan an entire property in under half an hour.
Features
Content Delivery System
iGUIDE has a comprehensive content delivery system, providing users with everything they need in one convenient place.
The iGUIDE Report, sent directly to users' email inboxes, includes:
virtual tour links (branded and unbranded)
downloadable image galleries
room dimensions
total floor areas and PDF floor plans
social media sharing options
embed code generator
iGUIDE Analytics
iGUIDE Analytics helps you understand where your listings are generating the most traffic and engagement.
It also helps you understand the demographics of the audience interacting with your content.
Embedding Tool
iGUIDE's Embedding Tool offers a convenient way to seamlessly integrate iGUIDE directly into third-party websites.
By generating an embed code, you can easily incorporate the interactive iGUIDE experience into any website.
Measurements and Floor Plans
iGUIDE provides users with accurate room dimensions and total floor area, as well as professional floor plans drafted by experts.
Plans and Pricing
iGUIDE offers 3 project pricing plans: iGUIDE Radix, iGUIDE Standard, and iGUIDE Premium.
iGUIDE Radix is ideal for site documentation, measurement, and publishing a tour to Google Street View.
It offers up to 20 scans at $0.75/scan, or $15 per project. For this price, you get one year of tour hosting, a photo gallery and slideshow, property reports, and weekly analytics via email.
In addition, you get access to the embedding tool and feature sheet creator, plus the ability to add your branding and contact information.
The iGUIDE Standard plan allows you to create 3D tours and as-built floor plans with enough detail.
Users get everything in the Radix plan, plus detailed room dimensions and floor area calculations.
Floor plans can also be exported directly to FloorPlanner or downloaded in PDF, JPG, DXF, or SVG formats.
Users can also increase functionality by purchasing the VR, EXF, and DWG floor plan add-ons.
Pricing for this plan is based on billable square feet, starting at $29 for 1,450 square feet.
Capturing 1,451-10,000 square feet of property would cost $0.02 per square foot. 10,001-30,000 square feet of footage and photos cost $200 + $0.015 per square foot.
The higher your square footage requirements, the higher your cost is.
The Premium plan is priced similar to Standard. It offers more detailed floor plans with fixtures and appliances.
The plan starts at $43.50 for 1,450 square feet of space. Capturing 1,451-10,000 square feet of property would cost $0.03 per square foot.
10,001-30,000 square feet of space cost $300 + $0.023 per square foot. This plan adds VR compatibility and detailed floor plans to everything in the Standard plan.
Pros and Cons
Pros
Accurate measurements. With iGUIDE, typical measurement uncertainty in distance measurement on a floor plan is 0.5% or better. The corresponding uncertainty in square footage is 1% or better.
Cheaper than competitors. iGUIDE does not charge virtual tour hosting fees and the platform is generally cheaper than competitors.
Excellent customer service. iGUIDE has a dedicated customer service team available to respond to any inquiries promptly.
Cons
Image quality may not be top-notch. The iGUIDE camera captures images by using a fisheye real estate photography lens and LiDAR technology, while the Matterport camera uses a combination of infrared and RGB cameras to create high-quality images. This means that Matterport images tend to have more detail and higher resolution than iGUIDE images, but the iGUIDE has more accurate measurements.
Lack of camera options. Users don't have the flexibility to choose from a variety of cameras or use their existing equipment. Instead, they must use the iGUIDE PLANIX Pro camera to utilize the iGUIDE software. The camera uses Ricoh THETA Z1 lenses calibrated by Planitar.
Integrations
BrokerBay
ApartmentGuide
Floorplanner
HDPhotoHub
idealista
Realtor.com
Realtor.ca
Rent.com
Rentals.com
RentBoard
Zillow
HouseLens
CupixWorks virtual tour solution is the construction industry's most advanced 3D digital twin platform, offering unique features and capabilities for remote site management.
Digital twins produce replicas of real-world assets in digital forms. CupixWorks allows users to quickly capture their site as a 3D digital twin and navigate it with life-like 3D spatial contexts, creating an immersive on-site experience.
Its real-time collaboration tool, SiteView, provides virtual remote site navigation, progress tracking, as-built vs. BIM analysis, 3D measurements, and 3D annotations.
This allows for effective communication and collaboration among global stakeholders.
Features
SiteView
This is a cutting-edge collaboration tool that offers life-like virtual site navigation, progress tracking, 3D and annotations.
It enables users and project stakeholders to communicate in real time and review projects within an immersive environment. This allows project members to make faster decisions.
Capture to BIM
CupixWorks offers functionality that allows users to create a Building Information Model (BIM) from 3D scans or captures of physical spaces.
It provides built-in schematic drawing tools to easily and accurately trace walls, doors, windows, and more in 3D.
The resulting BIM model is a digital representation of the physical space complete with accurate measurements, geometry, and metadata associated with the objects and elements.
Hybrid Capture
The Hybrid Capture feature in CupixWorks combines the use of the Cupix Capture Mobile App and LiDAR scanners to create detailed and accurate 3D virtual tours.
This two-step process ensures comprehensive site documentation, while capturing intricate geometries.
Cross-Data Measurement
Cupix's cross-data measurement feature enables users to take precise measurements from various data sources, such as point cloud data, 360° photos, or BIM objects, in both 2D and 3D environments.
By using advanced technology, Cupix can accurately measure objects up to 20 meters (65 ft) with a margin of error of 1% or lower.
Plans and Pricing
Although CupixWorks has three pricing plans, Essentials, Builders, and Unified, it does not provide pricing information about these plans on its website.
Users must contact the sales team for pricing information. CupixWorks license prices depend on the plan selected and the space size quota to be captured.
Pros and Cons
Pros
Strong data security. The platform offers high data security through two-step verification. It is ISO 27001 and CSA STAR-certified.
Accurate photogrammetry. Cupix is known for its accurate photogrammetry, which is achieved by localizing photos by comparing them to each other to determine their relative locations. This process results in a relative coordinate system among photos, allowing for precise 3D digital twin creation and measurements.
Collaboration tools. Cupix offers robust remote collaboration tools and integrations for team management and client correspondence.
Cons
Poor customer service. Based on some customer reviews, technical issues or software bugs may not be responded to promptly by Cupix's customer service team.
Time-intensive. The process of rendering and formatting uploaded pictures can take a lot of time.
Integrations
Autodesk BIM 360 & Construction Cloud
Insta360
Matterport
PlanGrid
Procore
Teleporter
Zapier
Transported is a virtual reality authoring tool specifically built for real estate agents and brokers. It allows users to create world-class virtual reality home tours by using any camera of their choice.
Transported tours can be customized to meet the users' specific needs. Users can add feature tags, voiceovers, and ambient audio to their tours, and they can also publish their tours on a variety of platforms.
Transported tours can be viewed on a wide range of devices, including Google Cardboard, Oculus Rift, and Samsung Gear VR. Web-compatible tours can also be shared or embedded.
Features
Feature Tags
Transported allows users to add feature tags to their virtual tours, which can be used to annotate the scene.
These annotations help viewers better understand the context and content of the tour, and they can also be linked to external sources for further information.
Voiceover
Transported provides users with the ability to add voiceovers to their virtual tours. These voiceovers can provide additional context and information.
They can also be used to add a personal touch to the tour and create an immersive experience for visitors.
Custom Branding
Transported gives users the ability to brand their virtual tours with custom logo placement.
This creates a more personalized tour experience and gives them the chance to promote their business by adding their logo to the virtual tour.
Cloud Syncing
Transported offers cloud syncing of tour data across multiple user accounts. This allows users to collaborate easily, share notes, and access the same tour data from any device.
It provides a secure storage platform for virtual tours, enabling users to access their tours from any device at any time.
Plans and Pricing
Transported offers three pricing plans: Pro, Business, and Enterprise. These plans differ in price and the number of tours users can create each month.
The Pro plan costs $24 per month and allows users to publish up to 11 new tours per month with unlimited hosting. It also includes basic stats showing tour views.
The Business plan costs $99 per month and allows users to publish up to 100 tours per month.
It offers unlimited access to hosting and advanced stats showing tour views and engagement reports.
It also offers live customer support (up to 4 hours phone support), as well as collaboration and customization features.
The Enterprise plan costs $590 per month and allows users to publish up to 400 tours per month.
It offers all the features of the Business plan, plus a dedicated support person and geography reports. Users can try the software free of charge for 30 days.
Pros and Cons
Pros
Free unlimited hosting. Transported offers unlimited hosting for virtual tours at no charge, with no hidden fees or restrictions.
Tours can be viewed on all major virtual reality platforms. Transported's 3D tour viewer app works on VR platforms like Google Cardboard, Oculus Rift, and Samsung Gear VR.
Cons
Limited training or support materials. There is little accessible information to guide new users.
Limited tour customization features. Viewers have limited options to customize how they view a tour. Unlike tools like Matterport, which offers dollhouse and floorplan views, Transported does not provide different viewing options.
VR focus. The software is primarily built for publishing tours on VR platforms like Oculus with less support for web and social media publishing.
Integrations
No third-party software integrations available.
Shapespark is a web-based virtual tour software built for real estate photographers, architects, and interior designers.
It offers users the ability to create interactive 3D walkthroughs from 3D building models. Users simply upload a 3D model, configure materials and lighting, and publish the tour online.
The tours can be accessed via any web browser, including mobile devices, and shared with clients and partners.
Features
Static Renderings
Shapespark allows users to add unlimited static renderings or panoramic images to their virtual tours. These offer a realistic sense of space and insights into square footage and layout.
Walkthroughs
Shapespark provides users with the ability to create walkthroughs that allow their audience to walk through a space in real time and see every corner of the property.
It showcases even the smallest details of a property by using high-quality, real-time renderings.
Online Configurator
This feature allows tour viewers or potential buyers to customize a space they are considering with an online material and color configurator.
The configurator allows them to see what their future space will look like and make adjustments before purchasing.
Top and Orbit Views
Shapespark allows space views from both top and orbital perspectives, so buyers can analyze even the smallest details, such as the layout of an apartment or property, very quickly.
Users can add clickable room names that offer detailed views of each room.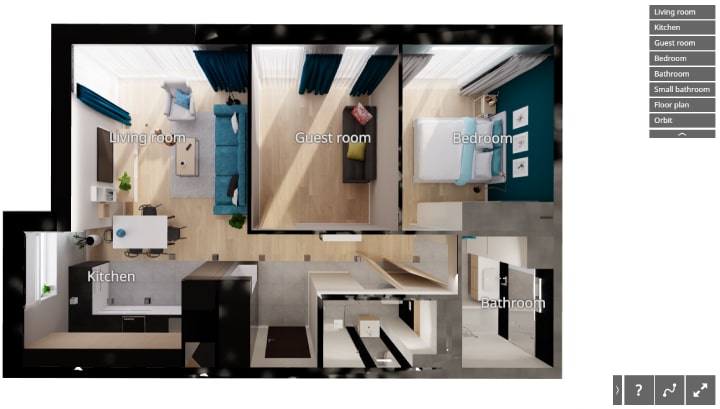 Plans and Pricing
Shapespark offers four pricing plans: Starter, Standard, Plus, and Premium.
The Starter plan costs $35/month, or $29/month billed yearly. It includes a Windows editor, a cloud editor, unlimited offline scenes, and 3 online hosting slots.
The Standard plan is $58/month, or $49/month billed yearly. It comes with all the features of the Starter plan, plus 25 online hosting slots, video meetings for up to 4 participants per meeting, and team management features.
The Plus plan costs $117/month, or $99/month charged yearly. It includes all the features of the Standard plan, plus video meetings for up to 10 participants/meeting, HTML/JavaScript customization, viewer API, and custom domains.
The Premium plan is $294/month, or $249/month billed yearly. It includes all the features of the Plus plan, plus video meetings for up to 30 participants per meeting.
It also includes custom avatars and the ability to host on your own server.
Pros and Cons
Pros
Great rendering engine. Shapespark has an excellent rendering engine that provides a realistic experience for the viewer, with realistic lighting and textures.
User-friendly. Users can access and use the software without the need to install it on their devices, enabling greater flexibility and ease of use.
Fast loading scenes. Shapespark optimizes 3D models and textures to reduce file size and improve loading times. The software also utilizes WebGL technology, which enables it to run directly in web browsers and take advantage of the device's GPU for faster rendering.
Cons
No material repository. Users can't create a library of pre-configured materials to quickly load into their scenes. Uploading materials every time can be time-consuming for designers who need to apply the same materials across multiple projects.
Lighting module needs improvement. Users have reported that Shapespark's current lighting module could benefit from improvements in both texture mapping and global illumination functions.
Integrations
__
About the Author:
Kristina Morales is both a licensed mortgage loan originator and real estate agent in the State of Ohio. Inspired by her years of working with buyers and sellers and seeing a need for more consumer education, Kristina created loanfully.com, an online educational resource for borrowers and industry professionals. In addition to real estate sales and mortgage lending, Kristina had an extensive corporate career in banking, treasury, and corporate finance. She ended her corporate career as an Assistant Treasurer at a publicly traded oil & gas company in Houston, TX. Kristina obtained her MBA from the Weatherhead School of Management at Case Western Reserve University and her B.A in Business Management from Ursuline College.