How to Choose the Right Real Estate Brokerage to Work for as a New Agent in 2023
Starting a career in real estate is full of challenges. After working hard on receiving your license, your next step is to find the right sponsoring broker to work for.
As brokerages widely vary by model types and commission-sharing structures, it's important to figure out first what will be best for you as a new agent.
To help you with your research, Real Estate Bees team asked Kristina Morales—an experienced Realtor and a team lead—to share her expertise with new agents making their first steps in building their real estate career.
From the Author
Hi, my name is Kristina Morales and I am a licensed real estate agent in the states of Ohio, California, and Texas.
Today I will be answering important questions that a new real estate agent may have when choosing the right sponsoring broker to work for.
Note: I am speaking based on my own experience and as it pertains to the states for which I hold a license. You will want to be sure to research any state-specific details before making a final decision.
How Do Real Estate Companies Work?
Within real estate brokerages, there are principal brokers and there are agents (also called salespersons or licensees).
Typically, a broker will hire agents as independent contractors (so they are not employees and are not paid a salary or hourly wage) to act on its behalf when dealing with clients.
An exception to this is a company like RedFin who hires their agents as employees.
The broker/brokerage is the only one who can legally enter into a contract with a consumer. All of the contracts are between the broker and the buyer or the broker and the seller.
The contracts are NOT between the real estate agent/salesperson and the client.
Remember the agency relationship you learned about in your real estate courses—the salesperson (the agent) is working on behalf of the sponsoring broker (the principal).
Another important point is that the agent/salesperson cannot be paid commission directly. The commission is due to the broker and then the broker subsequently pays the agent their share.
All salesperson licensees must hang their license with a brokerage in order to perform real estate duties. Every real estate company (big and small) operate differently.
They all must abide by state laws. However, how they choose to operate and what they offer their agents and clients differs widely.
Types of Real Estate Brokerages
There are several types of real estate brokerage models to consider when choosing which company would be best for you. I will go over some of the most common.
Full-Service vs Discount Brokerages
Brokerages are either a full-service brokerage or a discount brokerage.
A full-service brokerage provides clients an array of services when marketing their home and charges higher commission rates for their service.
A discount brokerage provides limited marketing services but charges significantly less for commissions. For example, a full-service brokerage may charge 6% while a discount brokerage may charge 2-3% or just a flat fee.
Traditional Brokerages vs. Virtual Brokerages
When people think of real estate brokerages, they are probably thinking of traditional brokerages. Traditional brokerages are full-service with "brick and mortar" offices for agents to work at and meet their clients.
Agents will have available to them desk space, copiers, printers, administrative staff, conference rooms, training sessions and the other agents to interact with on a day-to-day basis.
Some examples of traditional brokerages are Keller Williams, Coldwell Banker, ReMax, Howard Hanna, and Berkshire Hathaway.
A virtual brokerage does not have any offices, or very limited physical space, for agents to go to. They are a cloud-based organization.
Some virtual or cloud-based brokerages will have arrangements with shared space companies, such as Regus, where the agents can use those facilities to work at, hold meetings, have their mail delivered, etc.
The advantage of being with a virtual brokerage is that they do not have as much overhead expense. Therefore, you can expect to see better splits and savings on fees. The most known example of a virtual brokerage is eXp Realty.
Private vs. Public
Brokerages come in all sizes – from extremely small to extremely large. They also have different ownership structures.
Some brokerages are public and some are private. If the brokerage is public, then the stock shares of the company are made available to the public and traded on a stock exchange.
The opposite is true for a private. A private company's shares are traded privately and among few investors. Some examples of publicly traded brokerages are: ReMax, RedFin, eXp Realty and Realogy which owns Coldwell Banker, Better Homes and Garden, Sotheby's International, Century 21 and more.
Some examples of private companies are First Team Real Estate and Howard Hanna, and many, many more.
Franchise vs. Independent
One way to expand a company is through franchising. A company looking to grow will license out its business model, branding, technology, etc. to others in exchange for a franchise fee.
As a result, each individual office can have different owners even though they are the same brand. Many of the bigger brokerages such as Keller Williams, Coldwell Banker and ReMax are franchise organizations.
Franchise owners can own multiple offices or just one office. Each office operates within the franchise guidelines but are independent of other offices.
With a franchise brokerage, you can expect to see a franchise fee – typically around 5-6% of your commission.
Also, in these types of brokerages, an agent is only allowed to use the office that they belong to or the offices that are under the same ownership.
For example, there might be 25 Keller Williams offices in your area but you cannot use the other offices since they are under separate ownership.
An independently owned real estate agency will usually have one owner or group of owners and all office locations are governed under that one ownership structure.
So, if you are with an independent brokerage, you are usually allowed to utilize any of their offices regardless of where your "home" office is.
For example, when I was with First Team Real Estate in Newport Beach, California, if I had a client in the Anaheim Hills, I could use the Anaheim Hills office to meet my clients there.
I could even work out of that office if I needed to be on that side of town for the day.
What Are the Different Types of Commission Structures?
As with most things, the different types of commission structure will vary by brokerage. Here are some of the most common:
Split Commission
You will often see commission structures using the split model. What that means is that you as the agent will receive a certain percentage and the brokerage will receive a certain percentage.
Some common splits are: 50/50, 60/40, 70/30 or 80/20. Often the split will depend on experience and track record of the agent.
An agent will pay this split on every commission earned until infinity. There is no cap. Once an agent has a strong track record, the agent can renegotiate this split by asking for a better split.
Capped Commissions
Another structure involves a cap. The way a cap works is that each year there is a maximum amount that the brokerage will take in commissions.
After the agent pays the maximum commission to the company, the agent will earn 100% of the commission for the remainder of the year.
For example, let's assume 70/30 split and a $21K cap. In this case, when an agent earns a commission, the agent keeps 70% and the brokerage gets 30%.
The agent will continue to pay the broker 30% of all earned commissions until she pays the company $21,000 in commissions.
Once she hits her $21,000 cap, she will earn 100% of the commission for the rest of the year. The cap resets each year (typically based on an anniversary year).
Franchise Fees
If you join a franchise, there is typically a 5-6% franchise fee paid. This franchise fee comes off the top and before the split.
The franchise fee never goes away. Using the same example of a 70/30 split and a $21K cap but now let's add in a 6% franchise fee.
In this case, when a commission is earned, the agent will pay 6% of their commission to the company and then the remaining is split 70/30 until she reaches her $21K cap.
After the cap is reached, any commission earned will be 6% off the top and the remainder is 100% their commission.
If there is no cap, then the 6% and negotiated split will always be paid to the company.
Flat Fee or '100% Commission'
Many real estate agencies advertise themselves as '100% commission brokerages', saying that their agents receive the whole amount of their commission from every closing.
However, they will have a flat fee and/or per transaction fee. These arrangements can vary widely.
One example might be the agent pays $3,000 a year. This can be paid in advance or paid monthly. The important thing to note in this example, is that the $3,000 is paid regardless of whether anything closes.
Then, when a transaction closes, the agent will pay an additional $250 per transaction and $50 for E&O insurance.
E&O Insurance
E&O stands for Errors and Omissions. This is a type of insurance policy that protects the broker and agent from claims made against them for any errors or negligence.
The brokerage is required to have E&O Insurance and agents pay into the policy each year.
It will vary from broker to broker how much the required agent payment is and how they need to pay it to the company.
For instance, some may require it to be paid in advance each year. Others may allow you to make monthly payments.
Finally, others may make it a per transaction fee. You will want to be sure to ask the broker how E&O insurance is handled at their company.
How Much Do Realtors Pay Their Broker?
One of your most important realtor goals throughout the career is increasing your revenue. This partially depends on how much your broker charges you.
The amount real estate agents pay their broker varies widely. It will first and foremost depend on the commission structure they've agreed to.
In addition to commission, agents pay E&O insurance – the exact amount is broker-specific.
There can also be additional fees such as:
transaction fees
administration fees
franchise fees
office fees
printer fees
etc.
Since it really depends on the broker you choose and the deal you negotiate, there is no one answer to the question of "how much do realtors pay their broker?".
When interviewing brokers, be sure to ask for all the fees and costs you should expect to pay.
Do Any Real Estate Companies Pay a Base Salary or Hire Part Time?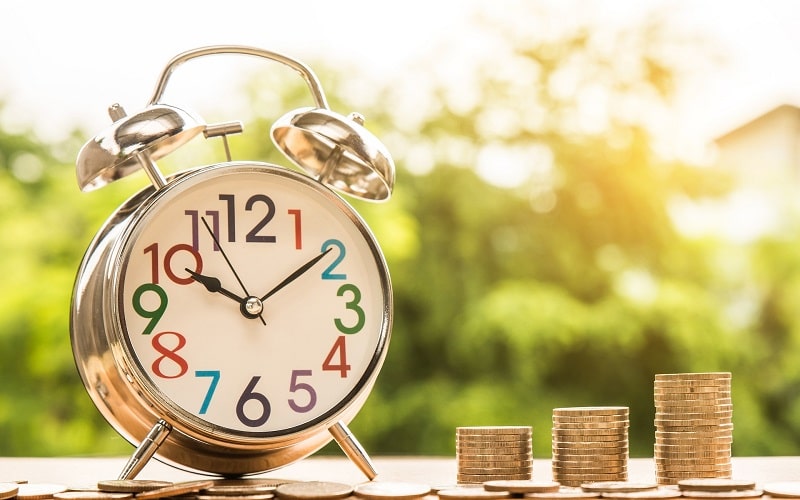 While normally real estate agents aren't paid hourly, there are real estate companies that pay a base salary. There are even teams within a brokerage that pay a salary.
For example, RedFin employs their agents – so the RedFin agent receives a base salary plus commission.
For teams, one example would be if an agent chooses to be an Inside Sales Agent (ISA) – which means they make calls to set appointments for other agents.
An ISA can receive a base salary plus a certain percentage of the commission for any appointments they made that led to a closing.
There are also many real estate companies that hire part-time agents. However, the majority of agents are 100% commission.
Do Real Estate Companies Offer Health Insurance and Other Benefits?
Since real estate agents are usually independent contractors, real estate companies typically do not offer benefits or health insurance.
However, through the National Association of Realtors (NAR), there is the REALTORS® Insurance Marketplace which provides NAR members with a roster of health and wellness insurance plans and products.
Will a Real Estate Company Pay for Your License?
Paying your licensing fee is not one of the things you should expect from your broker to do for you. However, some brokerages that are actively recruiting new agents may participate in the licensing expense or sometimes even fully cover it.
Do Real Estate Companies Give You Leads?
Many brokers would tell you during the interview that they provide leads to their agents. However, often than not, it is far from the truth, especially for the larger brokerages that consist of hundreds of agents.
They might provide their leads, and they often do, to a little group of top performers in their office in order to keep their book of business within the brokerage.
As a new agent you should NOT expect to receive any leads from your broker.
However, many brokers will TEACH you how to generate your OWN leads. Remember, you will need to hustle for leads as a new realtor.
That being said, there are some alternative real estate lead sources and lead generation opportunities that do exist within brokerages.
One example is "floor time" where you are placed on rotation to answer incoming calls from potential clients.
Another example is to hold open houses for other agents within the brokerage. This allows new agents to potentially pick up buyer clients. You can get more ideas on how to effectively cater to client needs from this article — 6-Step Buyer's Agent Checklist.
If your plan is to be a solo agent, do not go into this business expecting brokerages to provide leads to you like if they were lead generation services for real estate agents. If getting leads right off the bat is important to you, then I would highly suggest you join a team.
Do Real Estate Companies Train You?
Yes, there are many real estate brokerages that will train you but there are others that do not. This is a very important consideration when you are just starting your real estate career as a new agent.
You will want to make sure that you are selecting a real estate broker with an extensive training program OR join a team that will train you.
Either way, training is SUPER important for succeeding in real estate.
Regardless of the level of training your chosen brokerage will provide, I'd highly suggest not stopping there. Always strive to continuously advance yourself with additional education, training and coaching.
There are numerous training and coaching programs, events and books out there that will help you to constantly improve your real estate broker skills. Check out these resources for your ongoing self-improvement:
Do Real Estate Companies Do Background Checks?
No, real estate companies do not typically do background checks. The background check is done at the state level at the time you apply for your real estate salesperson license.
Advice: If there is anything on your background that could raise a red flag, please disclose it. It will come up in the background check and then you will look dishonest.
It is better to disclose and explain. By being truthful, you are showing the state that regardless of any mistakes you may have made in your past, you are a person of integrity by being honest about it.
Do Real Estate Brokerages Drug Test?
No, real estate brokerages do not do drug testing.
Which Real Estate Companies Are Best for New Agents?
For new agents, my recommendation would be to join a real estate agency with a comprehensive training program.
Keller Williams Realty, First Team Real Estate, Coldwell Banker Realty are some examples of companies with good training programs.
There are certainly more out there so you will want to ask about training when speaking with a brokerage.
Companies will typically have an initial 4-12 weeks of required training for newer agents. Remember, if you, as an agent, make a mistake, the broker is liable. So, they will want agents to be well-trained.
Many will have a mentorship program for either a year or a certain number of transactions to give you a resource while you are learning how to handle clients and transactions.
The mentor will usually receive a percentage of your commission.
Another option for choosing the right brokerage for you is to research local real estate teams. A new agent can benefit a ton from joining a team right from the beginning.
In this case, you will conduct a research just like you did for brokerages but instead you are researching real estate teams.
Teams are usually led by one or two successful agents. Like brokerages, every team operates differently. Here are some of the benefits to joining a team:
Many provide you with leads;
You have an established brand that you can leverage;
Marketing costs are covered;
You will get trained and trained via actual day-to-day activities;
You will have other people to work closely with;
It can serve as a stepping stone before you become a stand-alone agent.
Interview team leads and see if there is a good fit. Then, once you choose the team, your brokerage is chosen for you.
You will go with whichever brokerage your team lead is with. There are many benefits for a new agent to join a team.
To learn more about real estate team types by organization and compensation and select the one that fits you best, read this in-depth guide where the author — Joe Boylan — a broker and team lead with two-decade experience, explains in detail how to join a real estate team.
How to Find the Right Real Estate Sponsoring Broker to Work For?
Here are a few ways to help you pick a real estate broker. These are the ways I personally used myself as a real estate agent.
#1 Do Your Research
Take the time to sit and research various companies in your area. The internet has a ton of information – use it! Read, read, read!
You can look for local brokerages that are currently hiring on job search websites. There are websites specialized for real estate job search. Here is a list of 16 best real estate job search websites for agents that I compiled for you.
#2 Ask Your Family and Friends
who did you use or who would you use to sell your home?
what was your experience like?
would you use that brokerage again?
#3 Ask Other Real Estate Agents About Their Experiences
which companies have you been with?
what are the major differences?
which would you recommend for a new agent?
#4 Drive Around Your Neighborhood and Look at the Signs in Yards
Which real estate companies are you seeing most? This is super important because as a new agent, you will want to hold open houses for other agents to generate your own leads.
If you join a company with little market share, it will be difficult to get open house opportunities.
#5 Use Real Estate Bees Directory
Start with picking a few local real estate brokerages in your area from our real estate business directory.
It features top rated local real estate brokerages throughout the US whose rating is calculated based on the RealEstateBees.com platform's proprietary algorithm.
#6 Interview Several Brokers
This is a MUST. In fact, if it is a franchise, you will want to interview several offices under the same brand.
Franchise offices owned by different owners operate differently. For example, you might end up interviewing 3 different ReMax offices.
Take your time and get to know the various companies. It is important to understand how they operate and what they offer from both financial and support aspects.
Lastly, if you are looking for a sponsoring broker before starting your education to get licensed, you may want to learn in advance how to prepare yourself for your agent career right after certification.
Read the article I Got My Real Estate License, Now What? to learn what to do next. You might also want to learn what is involved in working as a realtor from our article on the pros and cons of being a real estate agent.
About the Author
Kristina Morales is a licensed REALTOR® and Mortgage Broker with over 20 years of professional experience. She actively practices real estate in Ohio but also has practiced real estate in California and Texas. Conducting her real estate business in three states has allowed her to gain unique experiences that make her a well-rounded realtor. She obtained her Bachelor of Arts in Business Management and her MBA with a concentration in Banking and Finance. Prior to real estate, Kristina had an extensive corporate career in banking and treasury. She ended her finance career as an Assistant Treasurer at a publicly traded oil & gas company in Houston, TX. To learn more about Kristina, visit her official website.
___
If you too want to contribute your expert advice on a topic of your expertise, feel free to apply to our Expert Contributor Program.