Best Paid Software for House Flipping
START FREE TRIAL
FlipperForce is an all-in-one web-based house flipping app built to help house flippers, rehabbers, and investors manage their projects.
It combines several handy tools needed to flip a house.
FlipperForce includes a rehab estimator tool that allows you to generate cost estimates for your rehab projects by using pre-built pricing databases of national average pricing.
It also includes home rehab software for project management that helps you create Gantt schedules for planning project timelines and tracking ongoing tasks.
It can also calculate actual expenses against the initial budget.
Features
Project Accounting
This feature allows users to track income, expenses, and the overall financial performance of their flipping projects. Users can track actual expenses against budgeted expenses.
You can also use this feature to generate expense reports and final profit projections for projects, which makes it a suitable replacement for expensive real estate investor accounting software.
Deal Analysis
Real estate agents and investors can use this feature to evaluate potential investment properties and estimate profit margins.
They can also access a wide range of house flipper tools such as cost estimation, BRRR analysis, flip analysis, and more.
The deal analysis feature calculates key performance indicators, such as net profit, return on investment (ROI), maximum allowable offer (MAO), and internal rate of return (IRR).
Project Management
This feature allows users to plan, track, and control various aspects of their house flipping and renovation projects.
It works by allowing investors to create a scope of work (SOW) for the renovation, which includes all the repairs and improvements needed on the property.
Agents can also use other tools such as task management, budget tracking, and communication management to effectively manage and streamline their project management processes.
Learn more about these and other features of the tool in the full FlipperForce review.
Plans and Pricing
FlipperForce offers 4 basic plans: the Solo plan, Team plan, Business plan, and Enterprise plan.
The Solo plan includes features such as deal analysis, repair estimation, and project management, and costs $59 per month, or $708 per year.
The Team plan includes all the features of the Solo plan, plus access control and project teams. It costs $149 monthly, or $1,788 annually.
The Business plan includes all the features of the Team plan, as well as unlimited projects and users. This plan costs $349 monthly, or $4,188 yearly.
The Enterprise plan is a customized solution built for large real estate operations who need an out-of-the-box solution. Pricing for this plan is only available on request.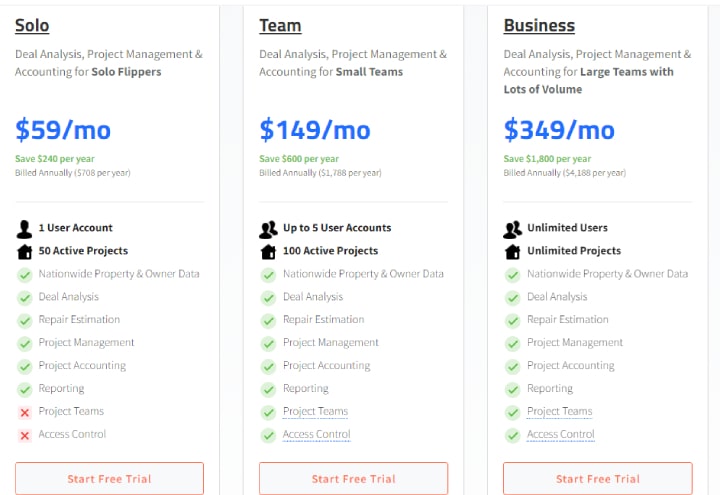 Pros and Cons
Pros
You can easily print reports. You don't have to export the sheet or file to another app before printing. You can print reports directly from the software.
Easy to use. The software is relatively easy to use, with many instructional videos available on YouTube.
Comprehensive features. You get access to different tools that streamline your house flipping process.
Cons
Project management features are hard to navigate. Document storage is limited, which makes it impossible to store all project photos. Also, features like Gantt charts and scheduling are hard to navigate on mobile.
Complex editing process. Changing data during a flip analysis requires you to go through all the flip analysis questions, even if you only want to change one number.
There is only one available currency. Unlike other tools that offer estimates in different currencies, this software's major currency is dollars. Estimates in other currencies are unavailable.
Integrations
Zapier
Google Calendar
Google Sheets
Dropbox